We find the Aworker project very promising, and see great potential in the platform being developed. Current schemes for interaction between candidates, employers and headhunters are often ineffective, and we agree that a plat based on blockchain could potentially solve the problem.
We look forward to further strengthening of the project's marketing campaign. The team has already managed to raise funds during its private pre-sale, and we see this as an opportunity to strengthen marketing activities in order to increase the community's interest as the ICO progresses.
General information about the project and ICO:
Aworker is a next-generation recruitment platform based on Blockchain with an ambitious purpose to disrupt the HR industry. It changes the way of hiring employees via smart contracts. Aworker will reduce costs per hire up to 4 times and increase people's income. The hiring of personnel is one of the most influential markets in the world, its volume is more than $429 billion.
WORK token is a coin of workers. WORK token will be directly linked to the placement and closing of the vacancy. The company will have to spend WORK tokens to find and hire an employee. The number of tokens is limited.
Smart contract platform: Ethereum blockchain
Contract type: ERC20
Token: Work
Soft cap: -
Hard cap: 24,770 ETH
Private Pre-Sale:
Start date: 26 January 2018
End date: 30 June 2017
Sale: To be announced
Available token for sale: 4,800,000,000 WORK
Cost of 1 WORK: 0.000025 ETH
Accepted currencies: BTC, ETH.
Bonus program: From 0% to 30%
Distribution of tokens: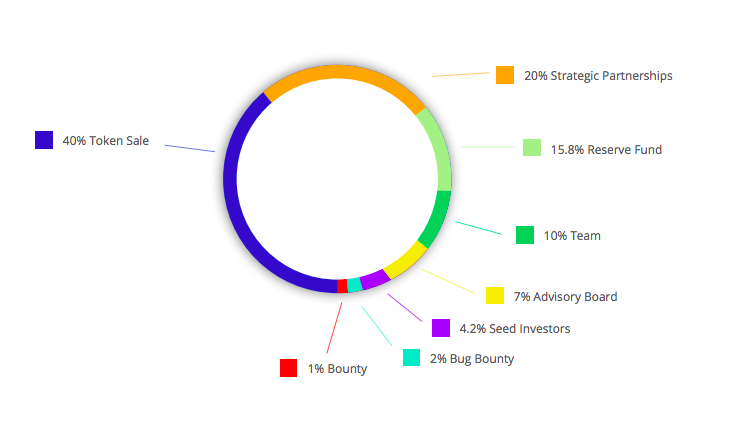 Funds raised from the ICO will be distributed as follows: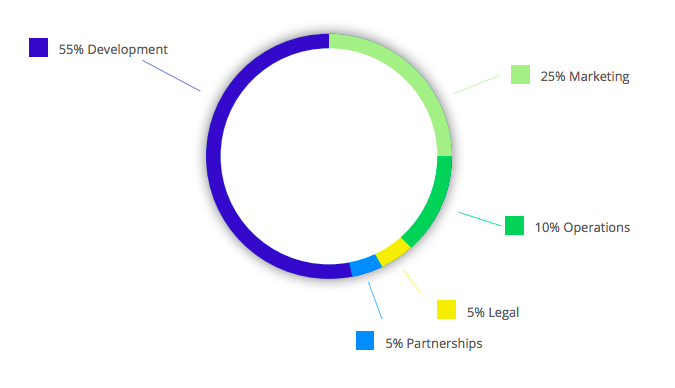 ---
Project Description:
An Aworker will be able to receive a reward for the recommendation each time his/her acquaintance gets a job at a company. The entire process will be open to an employee, and he/she will always be able to see the hiring stage.
In this case, the candidate search process becomes P2P, where other network users look for worthy candidates to the company and recommend them.
Recommendations of their acquaintances will create a pleasant and friendly team in the company. Everyone wins in this case. An employee helps his acquaintances, and the company receives recommendations from a trusted employee. Currently only employees of the company, recruitment agencies or headhunters can recommend their acquaintances to open positions. We want to expand these opportunities. Each person will be able to recommend his/her acquaintance if he/she understands that this person has all the competencies for the vacancy. An Aworker with a high reputation will be able to become a remote headhunter for companies that will recommend acquaintances for a particular reward.
Blockchain / DAG technology makes it possible to create a transparent and reliable system that will take into account the interests of all parties. Employees of the company often do not know when the reward will be paid, if they hire their acquaintance. Other people (not company employees) cannot recommend their acquaintances because there is no common and reliable platform. We want to make this process open so that each side has more detailed information to help make a decision.
Aworker Offers:
Transparency;
The power of smart contracts
Effectiveness and user-friendly procedures;
Security and privacy (data protection);
Innovativeness;
Control Your Data
Profit for all stakeholders.
A new approach to recruitment
Decentralized verification
Earn WORK tokens by:
Recommending to friends
Confirming your skills
Getting a job or coming for an interview
Advancing your expertise
Aworker's hire scheme: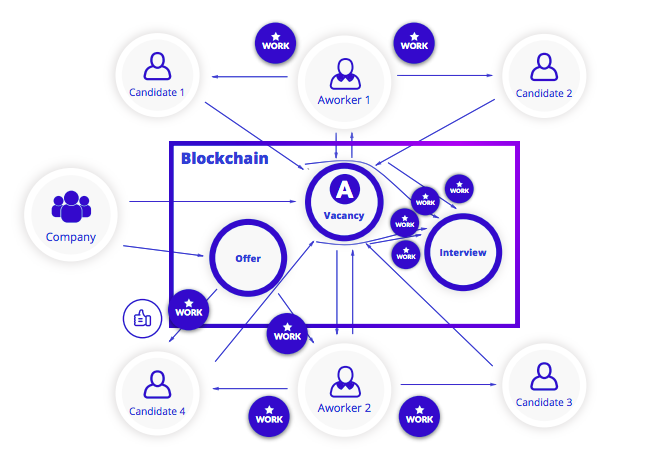 ---
Market and Industry Review:
Demographic trends largely affect the staffing market that grows as the labor force supply increases. A change in demographic transition can become a factor in dampening economic expansion and GDP growth, which in turn would cause a decline in the global recruitment market. The global recruitment market will be driven by factors such as declining rate of unemployment, increasing use of mobile platforms, rising industrial production, and increased volume of mergers and acquisitions in the industry.
Staffing/recruiting sales are highly correlated with the gross domestic product (GDP). As GDP expands, so does recruit market. The market is trending with the budding new business environment, the rise in foreign-born workers, rising staffing index, VMS & MSO usage, high demand for skilled and professional workers and accelerating job opening and hires. However, the market growth will be hindered by a decline in labor force participation, aging workforce and declining number of unemployed per job openings.
The need for recruitment services is often linked to the gross domestic product. As economic conditions improve and the demand for labor rises, the recruitment industry also expands.
The global recruitment process outsourcing market is forecast to grow at a compound annual growth rate (CAGR) of 17.66% from 2017 to 2021, according to a recent report by Technavio, a market research firm. This report is based on in-depth market analysis and insights from industry experts.
Advances in technology create new opportunities, but they also open up new risks and problems.
Data security and privacy are key concerns going forward. Recruitment companies store huge quantities of sensitive data, including contact information, work history, and salary details. Security breaches could be devastating for recruiters and candidates.
---
Marketing
Information about the project is available via popular services such as Twitter, Telegram, Reddit, Medium, Facebook and BitcoinTalk.
The team is active on social media. Twitter and Facebook update project news regularly; there is a blog on Medium.
The format of articles about the project shows that they were written mainly at the project's request.
Comments: Project has very good numbers at social media; the marketing campaign is being developed mainly on Facebook and Twitter.
Traffic analysis of the Aworker website based on Similarweb.com data showed the following:
Comments: direct link: 48.52%, referrals: 33.36%, search: 10.45%, social media: 5.65%, mail: 2.02%
Search traffic: 10.45%, 100% from with is organic.
Referral links: 33.36%
Top 5 countries of visitor origin: Russia - 19.22%, Turkey - 10.46%, United States - 8.19%, India - 5.94%, France - 4.17%.
Referral links: airdropalert.com: 45.56%; airdrops.io: 6.50%.
Social activity: YouTube: 41.10%; Twitter: 23%
Summary: Based on the available data, the community is interested in the project. Aworker has 55.24k traffic on the website for last month.
---
Team:
There is a team of five core team members, along with fourteen advisors.
Key positions are occupied as follows:
Team members:
Anton Cherkasov, CEO
Anton is an entrepreneur and a founder of SaaS Kepler Leads. He has launched several successful projects.
Work experience:
Wildberries LLC (2011), Manager Business Development
TranzitService LLC (2012 - 2015), Director Business Development
Snack Boom LLC (2015), Chief Executive Officer
Mosdesignschool (2015 - 2016), Co-Founder
KEPLER LEADS (2016 - Present), Chief Executive Officer
Education: Russian University of Transport (2003 - 2008), specialization - Engineer
Michael Barkov, Co-founder & HR Partner
Michael worked as HR Director of PAZOLINI (one of the biggest shoes retail) and Talent Acquisition and Development of L'Oreal. In Aworker he promotes product in HR market and hires the team.
Work experience:
JSC "Trade House TSUM" (2012 - 2013) , HR Project manager
Grupo Cortefiel (2013) , Recruitment Manager
L'oreal (2013 - 2015), Talent Acquisition Manager for Sales
PAZOLINI (2015 - 2017), Head of Human Resources
TOM TAILOR GROUP (2017 - 2018), HR Business Partner
Education: Plekhanov Russian University of Economics (2007 - 2011), specialization - Economics
Sergey Streltsov, CMO
Sergey is a Head of Content (ex-Global marketing director) in Yoola (#1 video network, distribution platform in the world). He has promoted companies in B2B and B2C markets.
Work experience:
PIXSELLS (2013 - 2015) , Creative Director
VSP Group Ltd (2015 - Present) , Global Marketing Director
Yoola Media (2016 - Present), GM Moscow
Education: Yuri Gagarin State Technical University of Saratov (1999 - 2004).
Michael Doshevsky, CTO
Michael is a developer in Kaspersky. Also he is a Head of Development in Number. Michael has extensive experience in architecture applications: C#, REST API, Microsoft technology: ASP.NET, Web API, Azure.
Work experience:
Acronis (2011 - 2012) , Associate Software Engineer
Paragon Software (2012 - 2015) , Software Developer
Kaspersky Lab (2015 - Present), Software Developer
Education: MSTU "STANKIN" (2007 - 2013), specialization - Software
Svetlana Fomenkova, Business Development Director
Svetlana has strong skills in business development and business strategy.
Education: Moscow State University (2002 - 2007), specialization - Media
Advisors:
Alex Maslyuk, HR Advisor
Joined SAP in 2017 for Evangelist role to make sure HR professionals understand upsides and downsides of technology, make fewer mistakes and get more value.
Wulf Kaal, Blockchain Advisor
Entrepreneur, Technologist, Professor. Leading expert at the intersection of law, business, and technology.
Keith Wareing, Marketing & HR Advisor
Keith is a blockchain evangelist and CEO of international marketing agency. ERA Media Online SL since 2012.
Coleman Maher, Partnership Advisor
Coleman Maher is the Head of partnerships at Origin Protocol and an advisor to blockchain projects.
Giovanni Lesna, ICO Strategy Advisor
Blockchain strategist, entrepreneur and ICO specialist, Co-founder and CCO at Blocktrade.com, Lead External Advisor to Adbank, Enkidu, Fresco, Plentix and Exmo.
Denis Polulyakhov, ICO Strategy Advisor
IT-entrepreneur with 12 years of experience. Co-Founder and CBDO Mark.Space.
Joseph Lowe, Marketing Advisor
Certified Cryptocurrency Expert, Operations Architect, Blockchain Advocate and Entrepreneur.
Ilya Anikin, Investment and Strategy Advisor
Serial entrepreneur with 17 years of experience. Founder of investment banking firm SH.
Suumit Shah, Digital Marketing Advisor
Suumit is the Founder and Head of three successful technology companies within web design and digital marketing industries. Vasily Kuznetsov, ICO Marketing Advisor
Co-Founder of the biggest Russian blockchain community and ex-manager in Russian AI Community.
Alex Linenko, Tokenomics and Strategy Advisor
Alex is a serial entrepreneur and blockchain expert, currently takes position of Lead Business Development manager at ICOBox company.
Andrey Korotkov, Business Analyst Advisor
Business analyst in ICOBox. ICO marketing professional, 1+ year experience in preparation and launching ICOs.
Dimitriy Goustchinski, Community and Partnership Advisor
Dimitriy Goustchinski is a Managing Partner 7btc.me and Founder, CAPCHECK / CRYPTA.WORK.
Dmitriy Lyamenkov, Business Analyst Advisor
The business analyst in ICOBox. ICO marketing expert, 1+ year in preparing and launching ICOs, 2+ years in cryptocurrency trading.
---
Investment Risks:
The Aworker project is subject to the risks typical for crypto assets, but it has already overcome many of the specific risks inherent in early-stage projects. The project has a good team, partnerships, an Alpha version of a product, and it has already held the most part of a pre-sale. Not many ICO projects can boast of such a record in their resumes.
The competitive environment of course carries certain risks. Even without looking for direct competitors for the Aworker platform among ICO projects, recruitment solutions are quite popular. Since there is a struggle for one and the same audience, a lot will depend on the project's marketing policy. It should be noted that the Aworker team understands this and is conducting an active marketing campaign.
---
Total Rate: