The CargoCoin platform links the physical world of trade and transport with the blockchain. The white paper presents a detailed roadmap for the project, where almost every detail is planned. The team has carefully worked out the development of the platform and progressive stages for its implementation.
The CargoCoin project is entering a promising, dynamically growing market whose growth rates will strongly assist this project's pace of development.
General information about the project and ICO
Cargo Coin is designed to be a smart contract, cryptocurrency platform, decentralising global trade and transport. The platform target is to facilitate and optimise the interaction amongst traders, freight forwarders, shipping lines, booking agents as well as all other parties involved in the international trade and transport of commodities and cargoes.
Smart contract platform: Ethereum blockchain
Contract type: ERC20
Token: CRGO
Soft cap: 5,000,000 USD
Hard cap: 55,000,000 USD
Pre-Sale:
Start date: 1 April 2018
End date: 15 April 2018
Sale:
Start date: 16 April 2018
End date: 30 June 2018
Available token for sale: 100,000,000 CRGO
Cost of 1 CRGO: 1 USD
Accepted currencies: BTC, LTC, BCH, DASH, DGB, DOGE, ETC, ETH and others
Bonus program: Max 50% in pre-Sale
Distribution of tokens: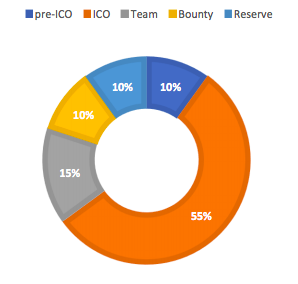 Funds raised from the ICO will be distributed as follows:
---
Project Description
The full scale scope of the project extends to all trade and transport areas i.e. the shipping industry (containers, bulk, break bulk, liquid bulk), inland transportation (trucks, railways), air cargo (transportation by planes, drones, etc.), other types of "new age" transport such as pipeline transport, space cargo, intercity and outer city shared rides. Dedicated platforms for the different types of transport will be interconnected, allowing for infinite functionality. The objective is the creation of synergy between the commodities & cargo traders with all transport means on a global scale. The integration of all participants and utilities delivers unique, FIRST of its kind Ecosystem. CargoCoin is designed to utilise the platforms, both as a secure transfer and storage method by the means of smart contracts, as well as a payment unit for services, freight and cargoes. The CargoCoin concept fully unleashes the potential of block chain crypto currencies to act, not just as a means of payment and store of value, but also as an interactive way of sending, receiving, approving, rejecting and signing documents through the process. CargoCoin is to be based on the newest ERC223 token standard. It has major improvements compared to the ERC20 token standard. The ERC 233 allows for more advanced, precise and universal handling of smart contracts, required for the project, while avoiding potential token traps. The issued tokens are designed to fully act as smart contracts programmed in Solidity and available as open source for everyone to review and inspect the code, thus serving all purposes of the project simultaneously.
The CargoCoin blockchain technology delivers revolution of the trade & transport by fostering optimisation. It will eliminate a number of problems: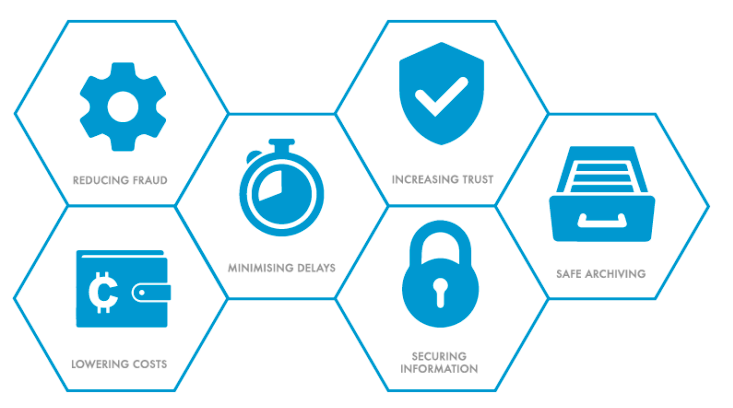 CargoCoin Offers:
Transparency;
Reducing Fraud;
Lowering Costs;
Security and privacy (data protection);
Innovativeness;
Customer satisfaction;
Market share growth and worldwide expansion;
Minimising Delays;
Increasing Trust;
Securing Information;
Safe Archiving;
Flexibility;
The CargoCoin platform links the physical world of trade and transport to the blockchain.
---
Market and Industry Review
The growth of the global logistics market is directly related to the development of international trade flow and the current economic environment. Asia Pacific and North America appear to be the most attractive markets for logistics, particularly when it comes to contract service such as third-party logistics. Intra-regional trade in emerging markets is becoming important, especially in Asia Pacific, and this, combined with high GDP rates, is projected to continue boosting the logistics market.
The usage of logistics services in different application such as manufacturing, retail, trade and transportation, government and public utilities, healthcare, media and entertainment, telecommunication, banking and financial services, and information technology is expected to rise considerably during the forecast period, which in turn, is estimated to strengthen the growth of the logistics market globally.
The global logistics market, in terms of revenue, is set to expand from US$8.1 trillion in 2015 to US$15.5 trillion by 2023, registering a CAGR of 7.5% from 2015 to 2024. By volume, the market is expected to clock in a 6.0% CAGR from 2016 to 2024.
Roadways to continue being Most Favored Mode of Logistic Transport
Based on the type of transport infrastructure, the logistics market is segmented into roadways, waterways, railways, and airways. Road freight transport is the most widely used transport infrastructure globally and has proven to be vital to the social integration and economic development of various counties. By revenue, roadways held the dominant share and by volume, waterways accounted for the leading share in 2015.
Flexibility of operations, easy accessibility, reliability, and availability of door-to-door services have enabled road transport to gain an increasingly higher share in the logistics market, both in terms of freight traffic and passenger transport. With improved road infrastructure in economies such as North America, Europe, and Asia Pacific, road transport is likely to continue its trend as the most favored mode of logistic transport.
Based on logistics model, the market is categorized into first-party logistics, second-party logistics, third-party logistics, and others. In terms of revenue, second-party logistics constituted the leading share in the market in 2015, followed by third-party logistics.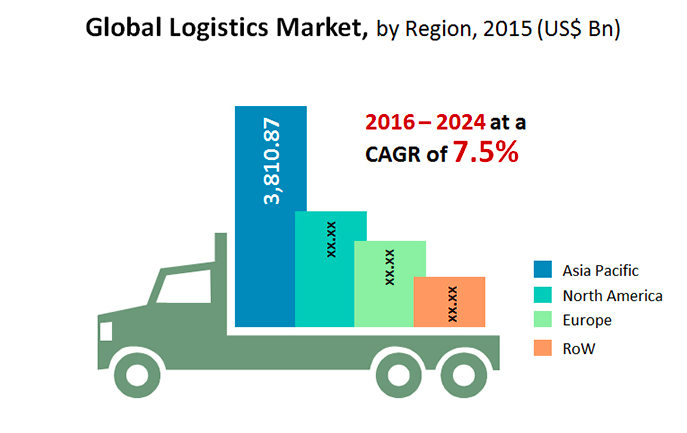 In 2015, Asia Pacific led the global logistics market thanks to significant contribution from countries such as China, India, Singapore, Indonesia, Japan, and Malaysia. China is the major contributor to the growth in this region due to the presence of a large manufacturing base. India, on the other hand, is one of the most promising markets, which has attracted the government as well as logistics players to make massive investments in the country.
The logistics market in North America has grown significantly over the years. This can be attributed to an increase in trade activities between the U.S. and South America and Europe. U.S.'s trade relations with Asia Pacific, particularly China and India, has strengthened owing to the rising demand for foreign goods in these countries.
Germany is a prominent market for logistics in Europe, while other countries such as the U.K. and France have also been contributing considerably to the regional market. Europe is recovering from an economic slowdown and logistics companies are making massive investments to improve the infrastructure in various countries.
Latin America is perhaps the most noteworthy market for logistics in the Rest of the World (RoW) segment. Emerging nations such as Brazil and Argentina have shown massive potential for development thanks to growing trade activities among various other developing countries.
---
Marketing
Information about the project is available via popular services such as Twitter, Telegram, Reddit, Medium, Facebook, YouTube, LinkedIn, Salck and BitcoinTalk.
The team is active on social media. Twitter and Facebook update project news regularly; there is a blog on Medium.
The format of articles about the project shows that they were written mainly at the project's request.
Comments: Project has very good numbers at social media; the marketing campaign is being developed mainly on Facebook and Twitter.
Traffic analysis of the CargoCoin website based on Similarweb.com data showed the following:

Comments: direct link: 36.19%, referrals: 36.17%, search: 9.99%, social media: 6.61%, mail: 11.04%
Search traffic: 9.99%, 100% from with is organic.
Referral links: 36.17%
Social activity: Twitter: 39.71%; YouTube: 21.25%;
Summary: Based on the available data, the community is interested in the project.
---
Team
There is a team of four core team members, along with ten advisors.
Key positions are occupied as follows:
Team members:
Bogomil Alexandrov, Founder
Lead developer with 20+ years experience in financial software development. Blockhain developer. Software & Finance specialist. BA Finance and International Trade, University of Portsmouth.Work experience:
Media 33/investor.bg (2011) , CTO

Superstarters Ltd (2010 - 2013) , Partner/CTO

Motion (1997 - Present), Chief Executive Officer
Education: University of Portsmouth (2000 - 2002), specialization - Arts, International Finance and Trade
Martin Iliev, Founder
18+ years of experience in the logistics, shipping and international trade. Presently ship owner. BSc Economics & Business Finance at Brunel University London, MBA at Cardiff Metropolitan University, Wales.Work experience:
Chrismare SA (2002 - 2007) , Chartering Broker

Chrismare Shipping (2009 - Present) , Director
Education: Brunel University, London, UK (1999 - 2002), specialization - Economics and Business Finance
Shipping, Transportation & Container specialist. Chartering manager at Mini Project Shipping Ltd., London. Qualified ocean going master.
Shipping & Transportations specialist, MSc Shipping, Trade & Finance, City University London. Martrade Group Germany - shipping, logistics and ports operations London representative. American Electric Power - shipping operations, commodities trade and derivatives.Work experience:
Education: University of National and World Economy (1992 - 1996), specialization - International Business, Trade, Commerce
Advisors:
Michael E. Bryant, Chairman of the Advisory Board. CEO of Blockchain Ventures International; Executive Member, Blockchain Council; Adjunct Professor of International Corporate Finance at Russia's Higher School of Economics
Simon Cocking, Senior Editor at Irish Tech News, Editor in Chief at CryptoCoinNews, and freelances for Sunday Business Post, Irish Times, Southern Star, IBM, G+D, etc. Number 1/18000 ranked member of the 'People of Blockchain.
Cpt. Dr. Savio Gomez, Marine consultant working in Japan and Korea, Certified inspector (OCIMF SIRE, CDI & CMID), Auditor (OCIMF SIRE, CDI-IMPCAS, ISM, QHSSE, TMSA & MTMSA).
Jonathan Chang, Co-Founder of Nauticus exchange, cryptocurrency entrepreneur with high level banking experience at ANZ, specializing in KYC, AML and CTF regulations as well as retail banking, merchant and eCommerce systems.
Lin Hsiang Liao, Vice President at China Merchants New Energy, part of China Merchants Group, owner of: Shekou Container Terminals, Modern Terminals Limited, China Merchants Shenzhen Xunlong Shipping Co.
Assoc. Prof. Dr. Clemens Bechter, Asian Institute of Technology, PhD, University of St. Gallen, Switzerland, MSc, University of St. Gallen, Switzerland, BSc, University of Cologne, Germany
Bryan Ng, Ng is the founder and CEO of First Accountants, a CPA practice with locations across Melbourne, Australia.
Edilson Navas, Founder at GBPA (Global Blockchain Pioneers Association), Community Manager of Enlte's South America, a decentralized social network and representative of medicohealth.io in Brazil and Latin America and BirdChain in Brazil
Vladimir Loshkarev, Vladimir is a passionate and enthusiastic entrepreneur with 10+ years' experience in business development, financial analytics and sales management.
Krasimir Georchev, Senior Business and IT Executive having more than 20 years experience in IBM, Siemens and Atos on various management and executive positions Currently Sales Director of Borica - Bankservice
---
Investment Risks
The level of competition for the CargoCoin project is high, many competitors are already in the market and the majority of them have scheduled their product launches before 2019 whereas CargoCoin is scheduled to launch in mid-2019. However, we note that the Cargocoin project is significantly undervalued in comparison to its peers, which creates investment opportunities for investors.
The project's Hard Cap of USD 55 million, is higher than average and increases the risk of not reaching the Hard Cap during the ICO.
The roadmap only covers the technical aspects of the project, and does not specify the business development process or the team's plans regarding market coverage/number of platform users, expansions, planned marketing activities, etc.
---
Total Rate