Crypto Angel focuses on AI's assistive role, emphasizing the fact that it is designed to enhance human intelligence. The idea is to design a system that supplements and supports human thinking, analysis, planning, and decision-making process, with the intentionality of a human actor lying at the heart of the human-computer interaction.

The project team leaves a positive impression; there were no discrediting facts about members discovered during the audit. In our opinion, the team has the necessary competence to implement the intended functionality in the event of a successful crowdsale.

Risks for the project lie with its technological and marketing aspects. These risks will be detailed in the relevant chapter of this review.


---
General information about the project and ICO:



Crypto Angel a is virtual life assistant, a Blockchain based Artificial intelligence system that is smart enough to understand and predict your intentions. It will have a unique and valuable property of being able to serve as your independent future consultant in uncertain, unknowable and unpredictable future time frames.


Smart contract platform: Ethereum blockchain

Contract type: ERC20

Token: ANGEL

Soft cap: 5,000 ETH

Hard cap: 88,000,000 ANGEL



Sale:

Start date: 16 March 2018

End date: 21 April 2018

Available token for sale: 70,000,000 ANGEL

Cost of 1 ANGEL: 0.001 ETH

Accepted currencies: ETH

Bonus program: From 0% to 30%



Distribution of tokens:

79,5% - For sale through the ICO

18% - For Team

2,5% - For Advisors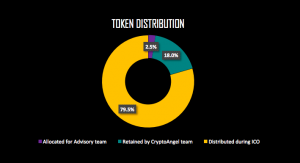 ---
Project Description:

CryptoAngel is a virtual life assistant based on powerful AI models, that works on an individual input, and outputs the best model that suits particular user needs. Imagine Cortana, Alexa, and Siri but way more scalable, intelligent and powerful. The ecosystem is blockchain based, where the developers can upload their models for training and processing in a decentralized manner. The goal is to have decentralized intelligent model called Master-Mind whose possibilities will be limitless. CryptoAngel will have mobile app where you can set your personal goal and the Master-Mind will recommend you the best options for reaching your goal. The ecosystem is beneficiary for all the parties involved, developers will be rewarded based on the performance of their model, end users will pay Angel for the model that achieves their goal. Also, the "miners" that will help the processing part of the models will be rewarded accordingly. Nowadays we have many virtual assistance and chatbots but they are domain restricted and black boxed and their performance is limited. CryptoAngel will have the potential to become one of the most powerful AI virtual guides that will be capable of understanding your problems and predict your intentions. Alternatively, there will be a possibility of data monetization, all the models will be ranked accordingly to their performance so if someone wants to use your model he can rent or buy it. Furthermore, the data needed for training the AI models can be valued and sell for future data mining task or evaluation.



Crypto Angel Offers:




Transparency;




Financial stability;




Security and privacy (data protection);




Innovativeness;




Customer satisfaction;




Market share growth and worldwide expansion;




Profit for all stakeholders.




Users can specify their desired goal in CA mobile app, which will trigger CA central intelligence (mastermind) to advocate on their behalf in the future and guide them towards achieving life goals.




property of being able to serve as your independent consultant in uncertain and unpredictable future time frames.




To democratize AI by onboarding broader community to be part of the development process of "Common AI"




To make generalized AI application that offers comprehensive knowledge that is continuously learning




To make the marketplace where an end user can buy various categories of knowledge



The company will be utilized for further development of CryptoAngel products in order to increase the value of CryptoAngel token.
Functional Structure: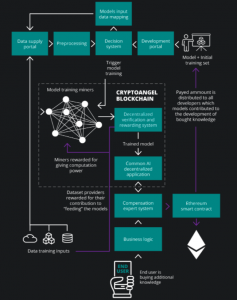 ---
Market and Industry Review:

Artificial intelligence is technology that is intended for the study and development of software for intelligent machines. Artificial intelligence technologies are widely used in various industries. Demand for solutions involving artificial intelligence is growing due to the need for companies to increase productivity. This factor will play a key role in the development of this market in the coming years.

The global artificial intelligence market size was valued at USD 641.9 million in 2016 on the basis of its direct revenue sources and at USD 5,970.0 million in 2016 on the basis on enabled revenue and AI based gross value addition (GVA) prognoses. The market is projected to reach USD 35,870.0 million by 2025 by its direct revenue sources, growing at a CAGR of 57.2% from 2017 to 2025, whereas it is expected to garner around USD 58,975.4 million by 2025 from its enabled revenue arenas. Considerable improvements in commercial prospects of AI deployment and advancements in dynamic artificial intelligence solutions are driving the industry growth.

Rapid improvements in fast information storage capacity, high computing power, and parallelization have contributed to the swift uptake of the robotics and artificial intelligence technology in end-use industries such as automotive and healthcare. Further, the need for understanding and analyzing visual contents, for gaining meaningful insights, is expected to provide traction to the industry over the forecast period. According to GRAND VIEW RESEARCH, in the period from 2018 to 2025 the artificial intelligence market will show the growth of revenue: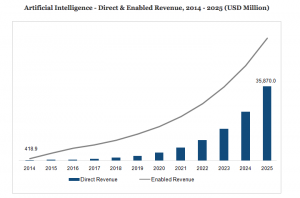 The machine intelligence arena holds secure growth prospects, attributable to which, the key players are focusing on developing an integrated solution including hardware and software. Furthermore, to expand their customer reach, several vendors have collaborated with distributors and end users for product distribution. The increasing prominence of parallel processing applications is leading to increased adoption of the technology in scientific disciplines such as artificial intelligence and data science. Organizations are utilizing artificial intelligence to extract valuable insights from data for providing innovative products and improving customer experience; thereby, increasing revenue opportunities.

Artificial Intelligence is gaining prominence due to its complex, data-driven applications such as voice and image recognition. It offers a great investment opportunity, as it can be leveraged over other technologies to overcome the challenges of high data volumes, high computing power, and improvement in data storage.

The rapid adoption of virtual intelligence/ AI in end-use industries such as retail, healthcare, and automotive is expected to augment market growth over the forecast period. Organizations are making investments to incorporate artificial intelligence capabilities into their product portfolio. In November 2016, SK Telecom announced that it had signed an agreement with Intel Corporation to develop the vehicle-to-everything (V2X) technology and video recognition based on artificial intelligence.

Thus, Crypto Angel project operates in a market with a volume of 12.5 billion USD and a projected growth rate of 54.4% over the next 3 years. The Crypto Angel project is aimed at solving one of the key problems for the industry — that of democratization.


---
Marketing



Information about the project is available via popular services such as Twitter, Telegram, Reddit, Facebook, YouTube, LinkedIn, Instagram and BitcoinTalk. The project has a Bounty program.

The team is active on social media. Twitter and Facebook update project news regularly;

The format of articles about the project shows that they were written mainly at the project's request.

Comments: Project has very good numbers at social media; the marketing campaign is being developed mainly on Facebook and Twitter.

Traffic analysis of the Crypto Angel website based on Similarweb.com data showed the following:









Comments: direct link: 42.57%, referrals: 45,22%, search: 1,20%, social media: 9,86%, mail: 1,16%

Search traffic: 1.20%, 100% from with is organic.

Referral links: 45,22%

Social activity: Facebook: 69,08%; Twitter: 17.51%

Summary: Based on the available data, the community is interested in the project.


---
Competitors

According to a study by Transparency Market Research, the leading players in the market of artificial intelligence solutions are IBM, Intelliresponse Systems, Nuance Communications, EGain, MicroStrategy, Brighterion, Google, Microsoft, Next IT and QlikTech International. Most projects in the field of artificial intelligence are extremely complex and expensive for most users.

The project identifies the following competitors:




Neuromation.io

-

The Neuromation platform allows users to create datasets, generators, and train deep learning models. The platform provides the marketplace, where users can buy already existing datasets and models.




NeuroSeed

- NeuroSeed platform solves this problem by means of combining cryptography and blockchain technologies and providing a reliable tool for creation, validation, trading and reusing of datasets and uniform reusable clusters of final machine learning models.




GraphGrail

- Graphgrail AI is a decentralized platform enabling the design of applications based on artificial intelligence and blockchain technology without the need for programming skills.



---
Roadmap:







Summary: The project has not presented a marketing campaign or any methods for attracting users to the platform.


---
Team:

There is a team of four core team members, along with six advisors.

Key positions are occupied as follows:

Team members:



Vladan Podjanin, Co-founder and Infrastructure Lead

Vladan is a cryptocurrency expert and blockchain enthusiast and has been an advocate of bitcoin since its very early days.

Work experience:

Education:
Business informatics at Belgrade business school
, specialization - Information Technology
Stefan Jovanovic
, Co-founder, Full-stack Engineer
Full-stack Engineer and blockchain enthusiast. Stefan has experience in different technologies and languages (CC++, Java, Android) and last 5 years has developing mobile applications for some of the world leading mobile brands. Now he wants to translate his knowledge into the blockchain industry and try to create the deeper connection between mobile and blockchain technologies.
Work experience:



RT - RK

(2012 - 2014), Software Engineer




PSTech

(2014 - 2015), Android Software Engineer




Endava

(2015 - Present), Android Developer



Education:
University of Belgrade, School of Electrical Engineering
(2005 - 2013), specialization - Computer Science and Engineering
Marjan Jankovic
, Lead Engineer
Electrical Engineer and blockchain enthusiast. Marjan is a full-stack developer with more than 5 years' experience in different platforms (Tribefire, Alfresco, IBM WebSphere Commerce), frameworks (Spring, Hibernate, AngularJS), portals (Liferay, WordPress) and program languages (C/C++/C#, Java, JavaScript). His vision is to create the superb platform based on Blockchain and Artificial Intelligence technologies.
Work experience:



CROZ

(2012 - 2015), Software Developer




Avnet

(2015 - 2016), Software Developer




Braintribe

(2016 - Present), Full Stack Developer



Education:
University of Belgrade, School of Electrical Engineering
(2004 - 2011), specialization - Computer Science and Engineering
Dimitar Anastasovski
, Blockchain and AI Developer
Software engineer with a lot of experience in many programming languages. Currently working on projects related to blockchain for the European Union and implementing the benefits of blockchain in Banks. Involved in Machine learning and AI projects for leading companies. Currently in the final phase of Master Degree studies in Computer Science.
Work experience:



EAC Skopje

(2014 - 2016), Organization Team




Red Cross

(2008 - Present), Disaster response team




Cefriel

(2017 - Present), Distributed Ledger Technology and IOT



Education:
Ss. Cyril and Methodius University
(2011 - 2015), specialization - Computer Programming.
Politecnico di Milano
(2015 - 2017), specialization - Computer Science
Advisors:
Conston R. Taylor
,
Marketing and Technical Advisor
Conston has over 20 years of experience in Strategic Planning, Acquisitions and Start-ups in the areas of Finance and Sales & Marketing.
James Sowers
, BlockchainAdvisor
James Sowers is a Korean-American businessman and philanthropist. He is a former singer/songwriter who was abandoned at birth who had his music career tragically ended by a reckless driver in a car accident.
Ratko Kupresak
, Financial Advisor
Senior Executive at Aujan Coca-Cola Beverages Company (ACCBC). Experienced FMCG Professional with 20 years of credible achievements in operations, strategic planning and execution of strategic route to market (RTM) initiatives. Efficient in managing P&L's for large businesses and building successful FMCG brands across East Europe and the UAE.
Nikola Cosovic
, Recruiter Consultant
Dedicated Recruiting Consultant in IT industry field with proven skills in recruiting, marketing, advertising and interviewing. Creative, curious and open to new business ideas and approaches. Successful in creating and implementing recruiting strategies that have resulted in an over 60% increase in new highly qualified candidates.
Milan Blanusa
, Marketing Advisor
Milan has experienced product marketing professional with more than 7 years of managing complex regional and enterprise projects in the domain of IT, telco and contextual marketing. He possesses a broad knowledge of business development, product and project management.
Zoran Srejic
, Legal Advisor
Zoran is lawyer, entrepreneur, with a lot of experience from own law firm. Expert in civil procedure, contract law with extended knowledge in computer science. He also works as a mediator and negotiator (both with great success and with a large number of cases). He also has experience in consulting for EU funds.
Nikolay Zvezdin
, Business and Finance Advisor
Currently CIO/CFO at Envinary, CIO at Enlight Visionary, Financial advisor to Digital Education Technology, Business Strategy Advisor to GIZA Device, Finance and Legal Advisor to TimeBox, ICO and Strategy Advisor to Datarius Cryptobank, EiraCube and AIDA Service, ICO, Finance, Compliance and Strategy Advisor to ICONIC Ecosystem, Expert Analyst, and New Experts Reviewer at ICObench, with experience in private equity, assurance, and advisory.
---
Investment Risks:

In such projects, there are always risks of a technological nature, i.e. risks of technical realization. In this case, the team has long been working on the project which increases the likelihood of success. However, it remains unclear whether the innovations being developed will be applied in practice in the near future.

The Graphgrail AI project did not provide a financial model, which prevents us estimating the projected costs of maintaining the operating activity.


---
Total Rate: