The CryptoProfile team realized there was a problem in the ICO market in 2016 and they began work.
We evaluate the team as being professionals with a high potential for synergy, and the advisor as extremely skilled in the industry.
Pay attention to the idea and Core Team.
We evaluate the CryptoProfile project as attractive and we sure that it could be successful to create a sustainable and popular platform for the crypto industry in the long term.
Soft cap $1,162,556 is reached on Pre-Sale stage.
---
General information about the project and ICO:

Empowering a blockchain revolution towards a safer and more secure ICO ecosystem CryptoProfile (CP) has initiated a transformative idea that will revolutionize cryptocurrency airdrops and prove highly beneficial for those holding CP tokens.

Platform: Ethereum

Technical standard: ERC20
Token: CP
Soft cap: 1 162 556 USD
Hard cap: 30 463 808 USD
Pre-ICO:
Start date: 1st of January 2019
End date: 31st of February 2019
ICO:
Start date: 1st of February 2019
End date: 28th of February 2019
Available token for sale: 591 474 747 CP
The current cost of 1 CP: 0,1 USD
Accepted currencies: BTC, ETH, USD
Distribution of tokens: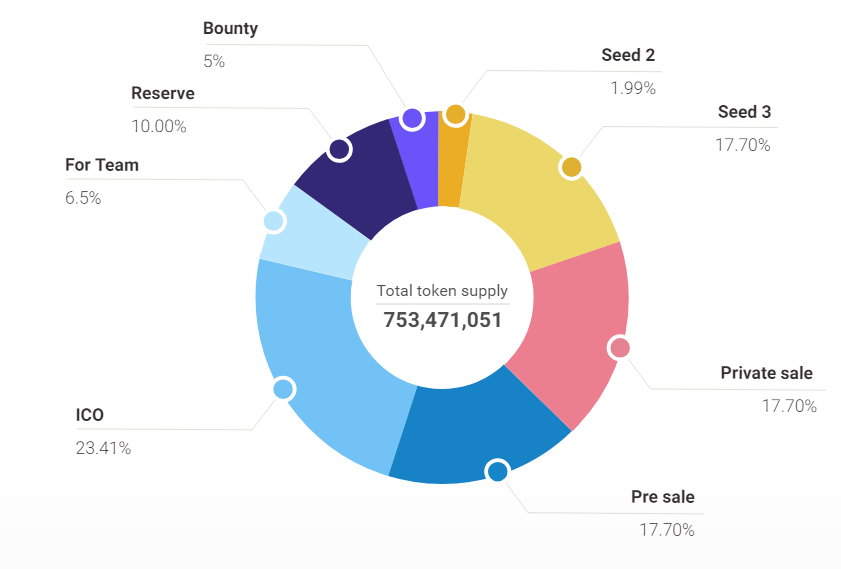 Use of funds: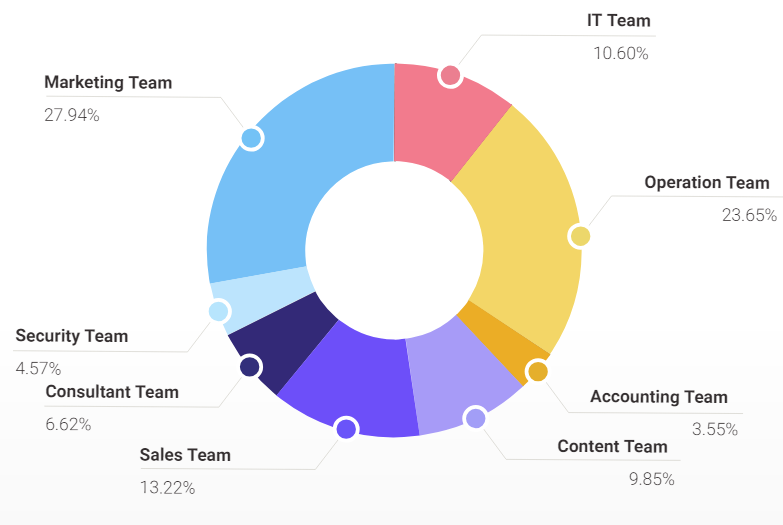 ---
Project Description:

CP believes in the importance of credible ICO projects. All ICO Projects will be check and research thoroughly before we accept them as our client. They offer to clients 100% return of all profits through marketing and also a 6-month return on the original value of tokens invested through a smart contract (T&Cs apply). Moreover, token holders are guaranteed maximum value through airdrop marketing.
Features:
Promote healthy speculation in cryptocurrency market.
Aiming to achieve steady uptrend of coin price.
Providing ICO projects with inadequate promotional activity budgets.
Gaining earned trust and support from the community.


The CryptoProfile platform will have some endearing features that make it an attractive option for cryptocurrency supporters



Due Diligence Mechanism:
CryptoProfile's platform ensures that only credible projects are onboard. Projects will be assessed using a strict standard that consists of its potential viability, technology metrics, team strength, and token utility. This is a positive point since the credibility of CryptoProfile's platform is only as strong as the credibility of the individual ICO projects within the ecosystem.


Novel Economic Model:
CryptoProfile is one of the first platforms that focus on creating a consolidated airdrop platform for ICO projects. The platform naturally aligns the long-term interests of stakeholders, with listed ICO projects getting the marketing exposure from the extensive network of investors who hold CryptoProfile's native tokens (called CP). CP holders are financially incentivized to also increase the marketing exposure of ICO projects within the ecosystem through the consolidated airdrop mechanism.
---
ICO market and Industry Review:
Total: $21,489,611,596
Total Number of ICOS: 1000+

ICOs are a mainstay of the cryptocurrency industry. They provide a risk-averse method for startups to raise capital that is required to create successful blockchain-based businesses. At the same time, they allow investors to earn from the appreciation of the coins and tokens of the startup a few months down the line when launched. However, opened the doors to numerous challenges for traders seeking authentic ICOs to invest.
A study found that 90 percent of all the ICOs fail in less than six months. A large proportion of them are scams where people trick investors to finance their ideas only to disappear after the money has been collected. This is one of the most prevalent problems due to the lack of proper regulation in the cryptocurrency industry. Another lesser-known problem is the frequent cases of ICOs with poor business and technical models. Regardless of how authentic the developers maybe, if the idea is not good enough the chances of failure are high.
---
Competitors:
CryptoProfile does not position ourselves to have any competitors. Instead, they work with partners in the community who may be offering the same services to ensure that users get the best due-diligence before investing in the ICO.
---
Documentation:
We have analyzed the CryptoProfile website and documentation for sufficiency and consistency for making an investment decision.
Information about the project is available in the Website, White Paper. In the White Paper, the project is described in sufficient detail. The main emphasis is on the problem solving and advantages of the platform. The business plan is great.
The website also provides information about the project, Token sale, the Roadmap, FAQ, Ratings, Media, The concept of ICO, News, Partner, Clients and the team.
Summary: The documentation enables a comprehensive view of the project. The work process of the platform is described in sufficient detail.
---
Team:
There is a team of 7 core team members, along with advisor.
Key positions are occupied as follows:


Max Ng, Managing Director & Co-founder


Successful tech entrepreneur and crypto enthusiast. Max has been involved in digital currencies since the industry was still in its infancy. With meritorious experience across blockchain development, SEO services, and corporate as well as social media marketing, Max has assisted in numerous successful. crypto-token projects, developing winning strategies and meeting funding requirements within the projected time frame. Max's passion for the industry inspired him to share his knowledge, and he co-founded Cryptoprofile.com, a successful platform with the mission of arming individuals with a competitive edge over other traders/investors with in-house crypto formulas and strategies. A familiar figure in the crypto community, his advice and opinions are highly sought after by investors and crypto enthusiasts looking for winning formulas.
Jaclyn Lim, Deputy Managing Director & Co-founder

Serial entrepreneur who has led several start-ups, she has in-depth experience coordinating and implementing administrative strategies in a timely manner. Her management skills include content management, initiating new client relationships, managing deal pipelines and providing marketing support to existing and potential clients.

Jaclyn has the know-how to develop opportunities across the blockchain space including building customer and investor relations to effectively deal with all aspects of a project life cycle, from client sourcing, due diligence, negotiations, valuation analyses, and roll-out. Her core strengths include developing and executing business strategies, providing strategic advice, preparing and implementing comprehensive business plans to facilitate achievement by planning cost-effective operations and market development activities.

Jaclyn has the competence to delegate responsibilities and supervise teams, providing guidance and motivation to drive maximum performance. Another of her core competencies is analyzing problematic situations and providing solutions to ensure growth. She is profoundly experienced in content management, speculation chart reading and meticulous personal. She is a reputed serial investor with investments in more than 10 ICOs with a 100% profitable record. She also trades via MAXI charts and is on profit.


Charles Ram, Sales & Marketing Director, Co-founder

Former Singapore 'Pools as Lottery' Agent where he was engaged for over 30 years. He has also been the owner of 'Goshcomfort' for 23 years and has received numerous awards from Spirit of Enterprise. Since he always had a knack for marketing, he attended many courses in the same field and started crypto investments two years ago.


Alan Lew, Chief Technical Officer & Co-founder

Alan has been in the website development business for SME for over five years. He has experience in guiding startups in consumer-facing industries to define brand positioning and user experience touch points.


Kelvin Lew, COO & Social Media Influencer


Digital native with over 12 years of experience in the digital sphere. He is highly passionate when it comes to utilizing the right marketing tools as well as the right way of expression to engage the right kind of audiences. Performance Marketing: Harnessing various media channels like Facebook, LinkedIn (13,000 followers achieved in 2 months), Google, Twitter and more. Inbound Demand Generation: via On Page SEO, MANUAL Link Building using Ninja Outreach and BuzzSumo, and Keyword & Topic Research (Ahrefs, SEMrush).
Advisors:

Amarpreet Singh, Global Business Development Director & Advisor

Amar is one of the leading advocates and contributing member of Global Blockchain community, Senior Advisor of Global Blockchain Foundation and is an Advisory Board Member of many Blockchain projects around the world.

A Technology/Digital enthusiast and a seasoned professional with years of experience in operations, consulting and innovation of the tech industry, Amar's background includes working with tier 1 firms such as Microsoft (APOC Operation Manager), the World Bank (Senior Infrastructure Consultant and Economic Advisor), Airbus etc., and advising startups and speaking at various technology forums.

His educational background includes B.E. (Computer Science) and three Masters degrees from three Universities around the globe (including MBA from National University of Singapore). Amar is one of the leading advocates and contributing member of Global Blockchain community, and is an Advisory Board Member of many Blockchain projects around the world. Amar is a very well-traveled individual, and his extensive knowledge and experience have benefited many organizations and projects he worked with around the world.
---
Investment Risks:
In our opinion, the token price will grow with the successful implementation of the milestones established in the roadmap, as well as increasing user interest in the platform.


The main risk of the CryptoProfile project is: Will the project succeed in attracting the attention of the ICO market?


Thus it can be stated that we have not identified any specific risks for the CryptoProfile project.
---
Total Rate: