Project details:

Name: Gamblica

Token: GMBC

Product: Platform

Small description: Global blockchain-based gambling platform developed by players for players

Website: https://gamblica.com/

Whitepaper: https://gamblica.com/documents/WP_Gamblica_v.1.0.5.pdf


---
ICO Details:



Public sale launch: 01 Mar 2018



Public sale end date: 01 Jun 2018



Crowdsale duration: 3 Months



Token type: ERC-20



Token supply: 544 000 000



1 GMBC price: 0.0001 ETH



Aссepted payments: ETH, BTC


---
Project information:



GAMBLICA is an international online gambling operator based on the integration of innovative IT solutions in online gambling and blockchain technology. Gamblica provides a unique betting opportunity to any gambler regardless of their location and income. The Gamblica platform will be running on a decentralized smart contract system, ensuring fair random number generation, cards distribution, betting slip odds calculations, distribution of funds, and payouts. Our team managed to build a system that guarantees the transparency and fairness of every gambling activity, including online casino games, sports betting and poker.



The Gamblica platform is designed to solve the gambling industry problems related to trust issues, international market entry, and personal data protection. Anyone is free to review all operational activities of the gambling operator through an open public ledger with mathematical proof of authenticity.



Gamblica provides sports fans with a chance to place a sports bet on a certain outcome. Soon the platform will be accepting live bets with the option to buy out betting slips before the game ends, giving bettors the opportunity to watch the event live. Betting payouts are decentralized, thanks to the integration of smart contracts and automatic payouts. Afer the outcome of a sporting event is transferred to Gamblica, its decentralized system immediately and automatically calculates the odds.



An integral part of the platform is the GMBC token, which serves as in-game currency and is used for betting and paying entry fees on the platform. Thanks to the benefits of using digital currency in the operator's system, every gambler has the opportunity to place a bet with the minimal transaction and bureaucratic costs. The use of tokens within the system minimizes time spent on bureaucratic procedures, reduces the fees and processing times for transferring funds to the client's account, ensures high levels of liquidity, and enables the operator to transfer money worldwide. At any given time, the player can exchange their tokens(GMBC) for the preferred cryptocurrency and withdraw funds. Gamblica has enormous potential to attract international customers. By providing an excellent game service and guaranteeing payouts, Gamblica allows players from all over the world to play their favorite casino games with minimal deposit fees (Ethereum gas) and no fear of their account being blocked.



Strengths of the project:




Massive industry and lot of money.




The main advantage of Gamblica project is the transparency of random number generation system, which can assure players of the fairness of a game's outcome.




No financial borders or hidden transaction fees




Users can bet with no minimum first game deposit and have the option of testing the system



Weaknesses of the project:



Poor advisory board




Small financial plan



---
Development plans:

Gamblica has a balanced strategy for entering the market. In 2018, the project team plans to focus on marketing and PR. Also in 2018 will be released the alpha - version of the platform. In 2019 (or late 2018), the project will have betting platform development and betting platform launch.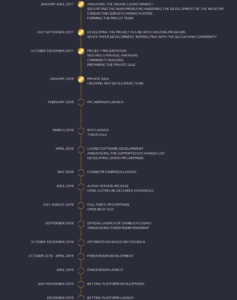 ---
Marketing:

Information about the project is available via popular services such as Twitter, Telegram, Reddit, Medium, Facebook, YouTube, Instagram and BitcoinTalk. The project has a referral program.

The team is active on social media. Twitter and Facebook update project news regularly; there is a blog on Medium.

The format of articles about the project shows that they were written mainly at the project's request.

Comments: Project has very good numbers at social media; the marketing campaign is being developed mainly on Facebook and Twitter.


---
Social media:

Twitter: Tweets: 50, Followers: 1,900

Telegram: Members: 1150

YouTube: Subscribers: 22

Instagram: Subscribers: 90

Facebook: Subscribers: 6,200


---
Team:

There is a team of five core team members.

Key positions are occupied as follows:

Nikita Cherenkov, CEO and Co - founder

Studied at Bauman Moscow State Technical University (BMSTU) on innovation entrepreneur faculty. Businessman, mining farm owner.



Education: Bauman Moscow State Technical University (2016), specialization - Innovative entrepreneurship.

Dmitry Yakovlev, Co - founder / Investor relations

He creates an offline casino, which successfully worked for 5 years. After the ban on gambling in Russia, he moved to Moscow City.

Work experience:




Tugush

(2016 - 2017), Head of investors relations



Education:
Financial University under the Government of the Russian Federation
(2011 - 2015), specialization - Investments.
Andrey Shevelev
, Head of the project
Seven years experience in marketing, worked for several ICO projects
Education:
Voronezh State University
(2005 - 2010), specialization - Jurisprudence.
Michael Ignatiev
, CTO
Has ten years of experience in IT industry, six of them as a team leader.
Work experience:



Promo interactive Ogilvy group, Team Lead



Education:
Financial University under the Government of the Russian Federation
(2011 - 2015), specialization - Investments.
Bogdan Orlov
, CVO
More than five years experience as Organizer of the huge media events, Co-owner of the advertising-production company.
Education:
Russian Presidential Academy of National Economy and Public Administration
(2009 - 2014), specialization - Marketing.
Advisors:
P B Stanton
,Cryptocurrency Lawyer
Highly experienced in securities, banking, ICO & Cryptocurrency Law. Former JAG Officer. Sophisticated and knowledgeable legal counsel to provide the guidance necessary to succeed in this cutting-edge technology. Mr. Stanton helps navigate the complex legal issues of regulatory compliance, valuation and management protocols and controls, among other considerations. Responsive and knowledgeable about the complex constellation of legal questions involved in dealing with cryptocurrencies, Mr. Stanton has moved to the forefront of law firms counseling clients in the evolving Blockchain and cryptocurrency environment.
Nathan Christian
, Blockchain technology consult
Technical expert in blockchain-based accounting and financial applications. Serial entrepreneur with over 35 startups in his portfolio. Initial Coin Offering (ICO) strategy, development, venture capital investment, consulting and advising. MBA from the Ohio State University.
---
Contacts:

Website: https://gamblica.com/



Twitter: https://twitter.com/gamblica



Telegram: https://t.me/gamblicachat



Medium: https://medium.com/@gamblica



Reddit: https://www.reddit.com/r/Gamblica/



Facebook: https://www.facebook.com/gamblica



Bitcointalk: https://bitcointalk.org/index.php?topic=2620951.0


---
Total Rate: