The Orbis Transfer team began developing the project on the 1st of February 2018. We evaluate the team as being professionals with a high potential for synergy, and the advisors as highly skilled in relevant industries. Separately, pay attention to a large number of partners who work with the project. We evaluate the Orbis Transfer project as potentially attractive and we believe that it could be successful to create a sustainable system for the crypto industry in the long term.
---
General information about the project and STO:
The World's Local Bank!
Invest, Earn, Transfer and Spend your Orbis dividends. Today, Tomorrow, Forever.
A New Way to Perform Crypto Transactions at Home or in your Local Orbis Bank.

Platform: ORBIS
Token: ORBS and ORBSi
Soft cap: 5 000 000 €
Hard cap: 40 000 000 €
Pre-STO:
Start date: 15th of December 2018
End date: 8th of November 2018
STO:
Start date: 15th of December 2018
End date: 15th of April 2019
Available token for sale: 80 000 000 ORBSi
Cost of 1 ORBIS: 0.5 EUR
Accepted currencies: ETH, BTC, EUR, USD
Distribution of tokens: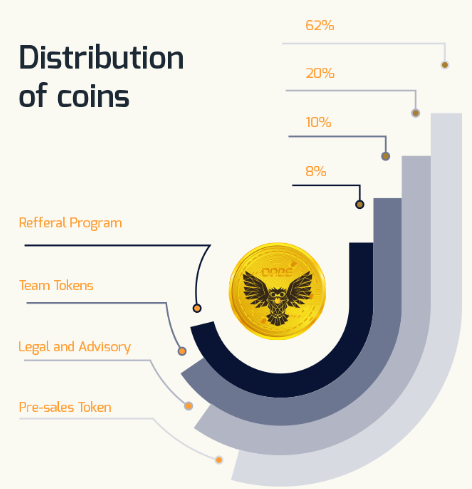 Funds raised from the STO will be distributed as follows: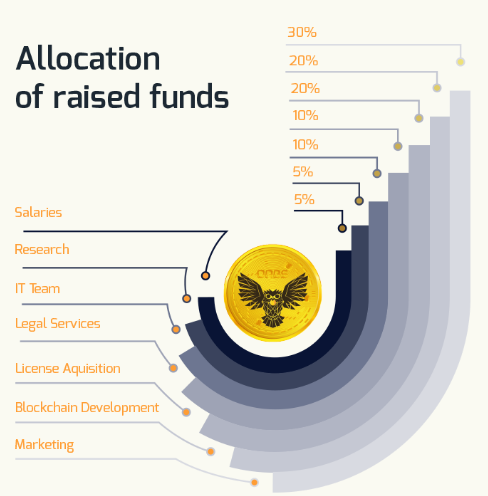 ---
Project Description:
ORBIS has been built using a unique blockchain solution, with two coins available to users that allow them to withdraw, transfer, spend, and invest fiat money or cryptocurrencies with no fees, no wait times, and no middle man.
With the mobile app, desktop software, debit card, and eventually in-person branch options, ORBIS represents a truly all-encompassing transaction solution.
The team is solving all the banking and cryptocurrency problems, developing the first price-stable cryptocurrency, ORBS – utility coin. Orbis utility coin used for worldwide transfers, payments, and savings, is directly linked in your wallet with Orbis security coin which is backed by OrbisSolutions company shares.
ORBIS Platform services and offers:
The decentralized desktop/mobile platform

Wallet

Exchange

Debit card

Wireless POS

Mobile NFC payment system

Fundraising for start-ups and other STO's

P2P Quick transactions
Orbis Blockchain 5.0.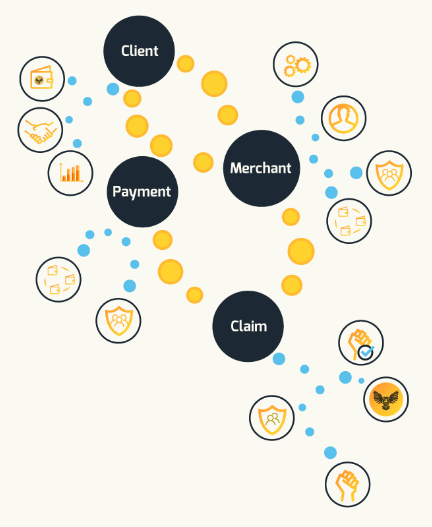 ---
Market and Industry Review:
Taking action to improve one's job standing is an implicit assumption in today's workforce. Nowadays, people are far more inclined to move for work than ever before. This has allowed the international money remittance industry to grow at unprecedented levels. A remittance is a transfer of funds made from a foreign worker to his or her home country.

The amount of money sent in remittance each year is roughly equal to the amount of money that is donated in international financial aid. In 2014, for instance, these remittances totaled $596 billion worldwide, with an enormous chunk of that ($436 billion) taking the form of a remittance to a developing country.

It's no wonder that people are doing this, however, when opportunities abroad are so much greater than in one's home country. It's not a new phenomenon, either – money remittance, however, is relatively new and has tripled since the year 2000. In 2004, at the G8 summit, it was determined that money remittances should be made as affordable as possible, and by 2008 the World Bank had initiated the Remittance Prices Worldwide Database. This allows for a comparison between remittance prices around the world and makes it possible to set benchmarks to ensure the quality and availability of such remittances.

Most remittances are handled by banks, but there are only three other institutions that dominate the entire Western non-banking market for remittances. These are Western Union, Moneygram, and RiaMoney. Between the three of them, they possess over 1.1 million retail locations around the world in 200 countries. Although this may seem like a large monopoly, they are actually now finally being challenged – by companies like Orbis Money Transfer and Investment. As an online service using P2P (peer-to-peer) technology, we can operate with significantly lower overhead and have lower fees than any other bank or money transfer institution. We also provide a self-service system that no competitor does.
---
Competitors:
The market is competitive, so we present a few competitors::
European Crypto Bank - European Crypto Bank is building a Crypto Bank and Trading Platform for Cryptos and FIAT and offering Tax Assistance over the Blockchain, Cryptos/Tokens Rating, Analysis, and Wealth Management Services.

Foton - Decentralized virtual crypto banking ecosystem for instant payments through contactless payments and blockchain technology

Quantocoin - Quantocoin is a platform for the future of funding that is built on top of the Waves blockchain. It accelerates the growth of unbanked people by offering tools and services that save both time and resources.
Summary: Orbis Transfer plans to operate in a fast-growing but highly competitive market where simplicity and convenience, security and speed are key factors. Only time will tell whether the project is able to take its niche.
---
Documentation:
We have analyzed the Orbis Transfer website and documentation for sufficiency and consistency for making an investment decision.
Information about the project is available in the Website, White Paper, FAQ. In the White Paper, the project is described in sufficient detail. The main emphasis is on the components and advantages of the platform. This is a great advantage over other projects. The business plan is great. Orbis Transfer has very good business partners for a lot of structures of the company. The financial plan shows the stability of the company. Orbis Transfer will keep as much capital as it is needed in order to be protected from any types of risks.
The website also provides information about the project, Coin sale/STO, the Roadmap, the blog, frequently asked questions with answers, and the team. The website is presented in English. The Whitepaper is presented in 9 languages.
Summary: The documentation enables a comprehensive view of the project. The work process of the platform is described in sufficient detail.
---
Team:
There is a team of 2 core team members and 2 consultants + team, along with four advisors.
Key positions are occupied as follows:
Team members
Mihail Tudoroiu, CEO & Founder
Gaining lots of experience and skills, working over 9 years as an entrepreneur in the fields of Blockchain, Banking, Marketing, Management, Distribution and IT, Mihail desires to change the world bringing new visionary technologies in the Financial Sector.
Work experience:
The national business later being sold to a well-known distribution corporation. (2009 - 2012) , CEO

Business Advisor (2012 - 2015)

OrbisSolutions OÜ (2018 - Present), CEO & Founder
Education: ESB Business School, Reutlingen University (2011 - 2015), Master of Computer Applications - MCA, Business
Orsika Vitos, Operation Director & Project Manager

Being a passionate and hardworking person, Orsolya Vitos has shown her experience and skills taking part in projects at FU International Academy Tenerife and SEOintheSUN as Project Manager, Digital Marketing Trainer and Social Media Specialist.
Work experience:
Prisma (2013 - 2015), Project Coordinator and Youth trainer

SEOintheSUN (2015 - Present) , Trainer and social media manager

FU International Academy Tenerife (2015 - Present), International Project Coordinator

OrbisSolutions OÜ (2018 - Present), Operation Director & Project Manager
Marcel Arsenault, Business Consultant
Marcel Arsenault wears many hats with over 17 years' experience in IT, Information Management and 18 years' experience as a public school and community college educator. He has worked in the IT and Information management fields with all three levels of government and within the private sector. He is an excellent communicator and fully bilingual in French and English!
He has worked as a Communications Advisor and Outreach Specialist with the Federal Government, attending conferences and trade shows as well as training companies and public how to sell goods and services to the Federal Government.
Brenda A-Chieng', Business Strategy Consultant

Founder & CEO at Forbes & Henry Consultancy. Brenda has gained experience and skills, working as a Business Consultant in the field of Financial Technology (FinTech). Brenda is passionate about entrepreneurship, creative problem solving and strategy: she seeks to impact the world by providing innovative solutions to any business she works with.


Advisors:
Giovanni Casagrande, Marketing Advisor & Growth Hacker
Giovanni is a notable blockchain industry figurehead, growth hacker and he is a co-Founder of Black Marketing Guru, a digital marketing and advertising startup based in Rimini, Italy. He is also Top10 Expert and advisor in a lot of projects.
Giacomo Arcaro, Marketing Advisor & Growth Hacker
Giacomo is a co-founder of Black Marketing Guru, one of the most important European Growth Hackers featured on the Financial Times, IlSole24Ore and Los Angeles Times
Sanem Avcil, Marketing / Media & Communications Advisor
Experienced Founder with a demonstrated history of working in the emerging technology industry. Skilled in development holds patents. Sanem has enormous worldwide connections. Very well known influencer on Crypto, Ar and VR.
Education: IBM Blockchain Foundation For Developers - MIT Design and Development of Games for Learning (Online) Stanford University (Computer Science – Online) Idea Generation Methods – Statement of Participation Karlsruhe Institute of Technology (KIT)
---
Investment Risks:
The main risk of the Orbis Transfer project is: Whether the product will be developed in a timely manner, whether it is competitive and whether it will be able to take a sufficient share of the market.
Thus it can be stated that we have not identified any specific risks for the Orbis Transfer project.
---
Total Rate: