Based on the analysis performed and issues identified, we have assigned the PointPay project AA rating. The project has two live products - crypto exchange and crypto wallet. Another product - Crypto Bank is in DEMO version.
General information about the project and ICO
PointPay combines three services in a single closed-loop ecosystem: PointPay Crypto Bank, PointPay Crypto Exchange platform and PointPay Multi-currency Wallet.
PointPay Crypto Bank
A new direction in the crypto market: manage, save and grow your capital with PointPay. We are building a unique all-in-one solution for the global market.
• Low fees
• Fast transfers worldwide
• No currency restrictions
• Virtual, debit and credit, fiat and cryptocurrency cards
• Cryptocurrency lending Crypto acquiring
• Online mobile banking, Crypto Forex Trading, Crypto deposits and credits
PointPay Crypto Exchange platform
Buy, sell and exchange cryptocurrency with confidence. Convenient interface and helpful tutorials make trading easy whether you are a newbie or a pro.
• Fiat pay-ins and pay-outs
• Tokenized assets trading (stocks, indices, commodities)
• Staking-based profit-sharing model to PXP holders
• Four-level referral system and referral exchange
• Leveraged trading (1:10)
• 24/7 support
PointPay Multi-Currency Wallet
Now you can send and receive crypto and fiat currency to other members of PointPay platform. Enjoy secure, fast transactions with our lowest fees!
• Multi-currency crypto and fiat accounts
• Security and anonumity
• Virtual crypto portfolio
• Instant exchange
• Cryptocurrency payments
• Instant deposits/withdrawals in EUR, USD, CNY
• SPV technique Payment Code ID Easy to use our products work on all devices
Smart contract platform: Ethereum blockchain
Contract type: ERC20
Token: PXP
Soft cap: 1,000,000 USD
Hard cap: 30,000,000 USD
Pre-Sale:
Start date: 22 May 2019
End date: 21 July 2019
Sale:
Round 1:
Start date: 22 July 2019
End date: 2 September 2019
Cost of 1 PXP: 0.10 USD
Round 2:
Start date: 2 September 2019
End date: 11 November 2019
Cost of 1 PXP: 0.20 USD
Round 3:
Start date: 11 November 2019
End date: 20 January 2020
Cost of 1 PXP: 0.30 USD
Available token for sale: 250,000,000 PXP
Accepted currencies: ETH
Bonus program:
$100,000 and more 1%
$200,000 and more 2%
$300,000 and more 3%
$400,000 and more 4%
$500,000 and more 5%
Distribution of tokens:

Funds raised from the ICO will be distributed as follows:

---
Market and Industry Review
It has been a slow and bumpy recovery since the Crypto Winter of 2018 and the parallel collapse of the ICO market. Since then, IEO and
STO has taken over and is the buzz words of the day, month and year. In an attempt to restore some investor confidence in the ICO market, many ICOs are pivoting and even re-launching their original projects in IEO or STO formats of which some have been successful whereas others have failed.
The reason for this is simple, rampant fraud and ICO scams seriously dented the trust of investors worldwide and many retreated to the relatively safe haven of traditional Angel and VC funding using the time tested A/B/C series investment rounds. After all, it's easier to invest in proven business models than unknown and untested blockchain-based utility tokens where there are mostly no "comps" (comparable business models). Add to that tokenomics that just don't add up as was the case in most ICOs and the recipe for disaster is complete.
Crypto Regulation on a Global Scale is Paramount
Starting recently, the tides are turning for the entire token fundraising scene due to regulation.
FINMA of Switzerland was the first to introduce token issuance guidelines and now many other "crypto-friendly" countries are following suit, notably Malta, Estonia, Singapore, and even China is defrosting their crypto-scare and fear.
Just recently, the Federal Financial Supervisory Authority of Germany – BaFin – approved the token sale and issuance of the Berlin-based blockchain start-up "Fundament Group"which is aiming to raise a massive $278 million (EUR 250M) from both accredited and retail investors to invest in the construction of commercial real estate in Germany using its real estate tokens.
Meanwhile, the State Duma of Russia – Russia's Lower House of Parliament – voted to adopt a legal framework to regulate fundraising through crowdfunding which, by extension, includes ICOs, tokens, and crypto.
And at the beginning of this month, the Securities and Exchange Commission of the United States approved a $28 million token issuance by Blockstack as well as a $187 million Props tokens issuance by streaming platform Younow.
This attests to the fact that crypto adoption is accelerating and economic heavy-weights such as Germany, Russia, and the United States are slowly starting to accept and regulate crypto which will benefit the ICO/IEO/STO industry as a whole.
The Start of a New Chapter in ICO 2.0 Fundraising
The future looks bright for serious entrepreneurs and cautious investors which are taking the "new & improved ICO 2.0" road to fundraising large amounts to jumpstart their projects. With increased regulation will come increased interest, not only form Angel and VC investors but also from institutional investors and crypto hedge funds and further down the line, even corporate, pension funds and family offices.
ROI is an important parameter, risk management even more. The new wave of ICO 2.0 will have to regain investors' trust and prove that the token fundraising model is indeed available investment opportunity.
The dramatic emergence of Initial Exchange Offerings (IEOs) as a funding model.
* This market review was prepared by Eleftherios Jerry Floros.
---
Competitors
MyCryptoBank - is an online bank allowing any client registered in the electronic bank system to make a full range of bank operations, additional operations with cryptocurrency (payment processing, debit cards, credits and cheap investment products, use of cryptoassets as credit security and many others) based on Blockchain technology without the visit of the department.

Celsius - is a new global P2P financial platform that will seamlessly connects holders of crypto-assets with borrowers. It will allow crypto-holders to earn interest on their assets in the form of coins, or get a cash loan against their crypto.

Bankera - is building a digital bank to last for the blockchain era. As a traditional bank, Bankera's services fit into three groups: payments, loans and deposits, and investments.
Summary: PXP plans to operate in a new but fast-growing and competitive market where simplicity and convenience, security and marketing budgets are key factors. Only time will tell whether the project is able to take its niche.
---
Marketing
Information about the project is available via popular services such as Twitter, Telegram, VKontakte, Reddit, Medium, Facebook, Instagram, YouTube, LinkedIn and BitcoinTalk. The project has a Bounty program.
The team is active on social media. Twitter and Facebook update project news regularly; there is a blog on Medium.
The format of articles about the project shows that they were written mainly at the project's request.
Comments: Project has very good numbers at social media; the marketing campaign is being developed mainly on YouTube and VKontakte.
Traffic analysis of the PXP website based on Similarweb.com data showed the following:

Comments: direct link: 35.06%, referrals: 28.41%, search: 15.41%, social media: 3.41%, mail: 17.70%.
Search traffic: 15.41%, 100% from wich is organic.
Social activity: YouTube: 40.98%; VKontakte: 15.76%
Summary: Based on the available data, the community is interested in the project.
---
Bounty Program
The project allocates 10 000 000 PXP (2% of all PXP issued) on the bounty; the program is open in the following areas:
Twitter

Facebook

Telegram

LinkedIn

Reddit

YouTube
Summary: The project has an extensive bounty program. All details of the program are available at the link above.
---
Team
There is a team of four core team members along with nine advisors.
Key positions are occupied as follows:
Team members:
Andrey Svyatov, CEO
Young and ambitious trader with a three-year experience. Author of analytical articles about blockchain technologies and cryptocurrency trading
Work experience:
• Junte Software (2018), Interpreter
• SG Consulting (2018), Translator in Cryptocurrency fields
Education: State Educational Institution of Higher Professional Education Ivanovo State Power University named after V.I. Lenin (2013 - 2017), specialization - Interpretation.
Anna Foster, COO
Her expertise in IT-team building, successful development of e-commerce projects from ground up and developing marketing strategies gives PointPay the competitive edge it needs to succeed.
Work experience:
• Construction Remodeling Company (2000-2004), Executive Assistant to CEO
• Fortuna, International Agency (2004-2006), Interpreter / Administrative Support
• Google, Inc. via Workforce Logic, Inc (2009-2010), Ads Quality Rater - English/Russian
• Google, Inc, via ZeroChaos (2012-2013), Ads Quality Rater, English/Russian
• Dream World Partners, Inc. (2012-2014), Website Project Manager
• www.Dream-Marriag.com (2011-2016), Affiliate Marketing Manager
• Foster Group, LLC (2016-present), Founder
Education: Penza State University of Architecture and Construction (1997 - 2003), specialization - Management in construction business, Construction Engineering Technology.
Ivan Levitskiy, CTO
Seasoned IT professional with over 7 years of software engineering, including experience at space industry. Has expertise and experience with building high-load services, PHP, Java, MySQL, PostgreSQL, JavaScript, AWS, Blockchain, Ether Smart Contracts (Solidity). Experienced building full stack development teams.
Work experience:
• Roscosmos (2011-2012), Software Engineer
• A-perspektiva (2012-2014), Senior Software Engineer
• NESA (2014-2015), Senior Software Engineer
• Law&Gauge (2015-2016), Chief Technology Officer
• Alpari (2016-2017), Senior Software Engineer
• Nova Technologies (2017-2018), Senior Software Engineer
Education: Moscow Power Engineering Institute (Technical University) (2008- 2014), specialization - Computational Measuring Systems Engineer
Halina Hulidava, CQO
Expert in data analysis, increasing of business processes efficiency, and asset management. Comprehensive financial analysis expertise. An experienced professional with acute sense of urgency for project completion deadlines. Worked on a wide range of IT projects within both public and private sectors.
Work experience:
• Petersburg's Hotels (2008), Administrator
• Isida-Informatika (2009-2015), Senior Business Analyst
• MyKontiki (2015), Business analyst/UX designer
• B2B Soft (2015-2016), Business Analyst
• Nova Technologies (2016-2018), Product Owner
Education: Peter the Great St. Petersburg Polytechnic University (2004- 2009), specialization - IT in Economics and Management, Economics in IT
Advisors:
Naveen Kapoor - the founder of "The Times of Crypto" and a blockchain & ICO consultant has more than twelve years of experience in project management and business analysis, more than one year of experience in ICO implementation, cryptocurrencies, ethereum, bitcoin, hyper ledger, EOS, consensus protocol and distributed/shared ledger technology.
Jay Derenthal - as a leading cryptocurrency and blockchain consultant with extensive business development experience, Jay has helped ICOs and STOs succeed in Europe, North America, and Asia. Jay is a veteran Bitcoin and Ethereum writer with a particular interest in the tokenization of assets into tradable securities.

Kevin Kim - is a Canadian-Korean with professional experience in the ICO, finance and technology industry. He has worked with multiple clients looking to expand their business and develop using a data-driven approach.
George Dicdiquin - As an ICO advisor and a marketing guru, George Dicdiquin has helped many crypto start-ups with their marketing, bounty, and promotions using his experience in content writing, community management, and social media marketing. George also creates reviews and research for upcoming ICO and fintech project in his spare time.
Mikael Araújo - is a digital marketing professional whose mission is to help companies promote their products and services. He worked with companies like Sebrae, IEL, Mobills, ICOBox and many others to impute their results. He specializes in digital marketing for blockchain and digital assets market. Mikael contributes as a columnist for Empreendedor.com.
Ilya Polyakov - is an accomplished Project Manager (certified by PMP, PME), member of Project Management Institute (PMI) since 2014. His career started as a developer but due to high responsibility he became a project manager (since 2008). Major part of his projects is correlated with financial services and IT-sphere.
Vishal Savaliya - is the President & CEO of the Laxmisoft Technologies, and specializes in professional mobile and web design and development for blockchain companies. Served over 200 clients across USA, UK, Canada, Singapore, Australia and UAE.
Alex Prokopenko - has over 17 years of running IT projects. Project Manager with a proven track record in the information technology industry. Demonstrated skills in various fields: banking software, fintech, machine learning, blockchain technology, information security, IT infrastructure. Experience working with large companies, managing government contracts, managing startups & Experienced in organizing workflow from the ground up. Capable of building the team and the processes. Theoretical and practical knowledge of PM methodologies.
---
Investment Risks
The project is based on a technologically complex idea, which requires a large number of different stages of testing and coordination within the team.
The project is still under development and may undergo significant changes over time.
These may arise due to intermediation activities in the financial and cryptocurrency markets. They revolve around legal and technological aspects, and cannot be foreseen in advance.
---
Total Rate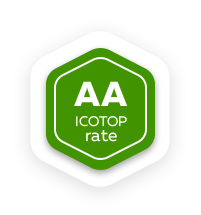 ---