The Sphere social project is entering the growing market for social communication and aims to solve a number of real-world problems. The project's chance of solving these problems makes it promising and potentially in high demand.

Sphere Social has a strong team and advisors, who between them have extensive experience in this business area. The fact that the management has sufficient experience of joint work and is successfully developing its business is a definite plus for Sphere Social.

Having studied the available information and written this review, we did not identify any significant risks that could negatively affect the price of the token.


---
General information about the project and ICO
Sphere was built on the idea that privacy, company transparency, and data security should be the fundamental building blocks of every social platform.
Sphere wants to help you take back the control and have a say about your data.
So Sphere created a decentralized social network, separate from those corporations, that allows exactly that. You have a say, you get compensated, and above all you take back the power with every click and every social connection.
Smart contract platform: Ethereum blockchain
Contract type: ERC20
Token: SAT
Soft cap: $1,500,000
Hard cap: $40,000,000
Period of Sale:
Start date: 12 February 2018 UTC 21:00
End date: 9 April 2018 UTC 21:00
Available token for sale: 650,000,000 (65% of supply)
Cost of 1 SAT: $0.14
Accepted currencies: Ethereum, Bitcoin, Litecoin, Dogecoin, Fiat
Bonus program: From 15% to 60%
Distribution of tokens:
65% - For sale through the ICO
17% - For the social network development
9% - For the company
8% - For Bounty
1% - For the team and advisory staff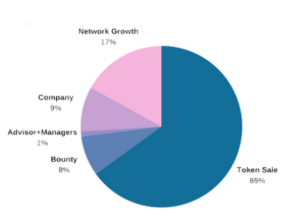 Funds raised from the ICO will be distributed as follows:
Application Development: 60%
Marketing & Promotion: 15%
Company: 15%
Legal: 5%
Security: 5%
---
Project Description
Sphere Network is a next-generation decentralized Social Media network.
The problem with social media juggernauts today is that your online activity, data, and privacy belong to them - and they freely sell it all to the highest bidder. The problem with centralized servers is that their stores of sensitive data are vulnerable to hacking. In their place, we are creating Sphere, a more transparent, honest, and open blockchain network.
Sphere is built on the main principles of privacy and security as an irrefutable right, giving users protection, security, and peace of mind.
Sphere Social Offers:


The established product that can be found on the internet, as well as Google Play Store and Apple App Store. Shere social currently has 600,000 registered users and the number is increasing.


The strategic plan that puts their users and token holders first.


The segregated cloud server environment that is safeguarded using cutting- edge security systems.


The superior user experience and superior customer support for the users in Sphere ecosystem.


Anonymous transactions globally. Everything is done using digital currency.


AD Platform. Sphere has plans for creating a fully functional advertising portal. The advertising portal will allow users to create ad pieces that will be displayed in the Sphere news feed.


The safeguard of users privacy and avoid the misuse of community data.


---
Market and Industry Review
The social media market has experienced a continuing growth trend in the last decade. Social networks are starting to play an increasingly important role in marketing every year. Users are happy to learn the content in social networks and share it with their friends.
According to
Pew Research Center
, in the period from 2005 to 2018 the social media market showed active growth from 5% active world users in 2005 to 65% active world users in 2018: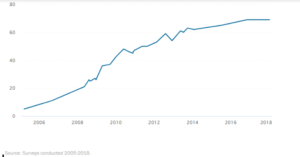 Active growth is also evident in other segments related to the social media market. According to a
Pew Research Center
report, an increase in the number of social media has become key factor for the rapid growth of the internet advertising. The market share of the Internet advertising has increased by 25% over the last 5 years. This year Internet advertising is expected to grow by 7% thanks to social media market.
---
Competitor Analysis
The social media sector has a large number of social networking companies such as:
Facebook
- is an American online social media and social networking service company
Currently, the main advantages of this platform are:


14 years operating in the market


2.2 billion monthly active users


Most popular social media in the world


LinkedIn
- is a business- and employment-oriented social networking service


14 years operating in the market


530 million members total


Most popular social media for professionals


There are also other social networks like YouTube, Google+, Twitter. Each social network has its own characteristics. They prefer users of different sex, different ages and different nationalities.
Sphere Social has the following advantages over competitors:


Full decentralization


Instant confirmation of transactions is implemented on the basis of Ethereum Virtual Machine


The possibility of receiving remuneration for SAT tokens for any confirmed action


Full anonymity of users


The ability to create decentralized applications and smart contracts


We think that the combination of current growth in the social media market and the advantages listed above will allow the project to occupy its niche in the market.
---
Team
There is a team of five core team members, along with four advisors.
Key positions are occupied as follows:
Team members:
Andrew Khong
, CEO and Founder
His entrepreneurial background includes starting two different businesses that reached multi-million dollar revenues in the first few years.
Work experience:


Howard Johnson Hotel (2009 - 2012) , Owner


World Class Ventures (2007 - 2016), CEO


Education: University of California, Berkeley (1999 - 2003), specialization - Physical Sciences
Robert Tomkins
, Tech project manager
Work experience:
Education: University of Sussex (2009 - 2012), specialization - Arts
Andy Fuhr
, System engineer
With his extended experience in studios as an artist himself and working in the field, he understands the challenges of tech and how this affects the creative process.
Work experience:


Motorola Mobile Devices (2001 - 2007), Test Engineer


GPL Technologies (2010 - 2011), Engineer


Stun Creative (2011 - 2016), Director of IT


NU Geometry (2014 - Present), Creative Studio consultant


Education: University of Central Florida (1999 - 2005), specialization - Computer Engineering
Jessica Thoennes
, Community manager
Education: University of Washington (2014 - 2018)
Tamara Mihajlovic
, Customer Support
Advisors:
Michael Arbach
, Blockchain Architect
Has experience at On-Chain as president.
Amy Roiland
, Fashion Tapp Founder
Marketer, spokeswoman, model, designer, PR-rep, and fashion blogger. Spoke in front of audiences of 10,000+ people and negotiated sponsorships with major fashion and consumer brands.
Boyan Josic
, CEO - Digital Content
Boyan is an entrepreneur, investor and product visionary for digital media related products and services. He is the Founder & CEO of MarketMakers.io and Mogul.Capital
Rob Rukstalis
, Massive Media
Возьми фотографии этих людей на этом сайте:
https://sphere.social/
---
Development plans and roadmap
Sphere Social has a balanced strategy for entering the market. Currently, cryptocurrency is legal in a large number of developed countries and the company's roadmap has been developed taking into account the current situation. It will be adapted in accordance with changes in legislation in countries in whose territories the project will be active.
---
Investment Risks
The rate for 1 SAT is tied to ETH during the token sale. Given the high volatility of cryptocurrency, this creates an additional risk for fiat investors, since in the case of an increase in ETH rates, the price of 1 token in fiat increases.
There is also an economic risk, as Sphere does not disclose financial indicators and forecasts.
The global marketing strategy has not been published; for this reason, the project is also in the risk zone and current investors will not be able to obtain a clear idea about future product promotion.
---
Total Rate :