The Swachhcoin team began developing the project in early 2016. We evaluate the team as being professional with a high potential for synergy, and the advisors as highly skilled in relevant industries. We evaluate the Swachhcoin project as potentially attractive and we believe that it could be successful to create a sustainable ecosystem for the crypto industry in the long term.
General information about the project and ICO
Swachhcoin is a unique blockchain-powered attempt at micromanaging wastes from households and industries and efficiently converting them into useful products. These products, at the end of the process, will be of higher economic value. The team intends to delve into the realm of, but not limited to green-energy, fertilizers, and power generating gases as of now. But given the rapid progress of fundamental research on efficient product conversion, the team looks forward to adapting and better the existing working technology. Smart contract platform: Ethereum blockchainContract type: ERC20Token: SCXSoft cap: 5,000,000 USD Hard cap: 18,000,000 USD Pre-Sale: Start date: 5 May 2018End date: 20 May 2017 Sale: Start date: 15 June 2018End date: 31 July 2018 Available token for sale: 276,000,000 SCXCost of 1 SCX: $0.04 for Presale and $0.075 for CrowdsaleAccepted currencies: ETH, BTC, BCH, XRP, LTC, KCS, BNB Distribution of tokens: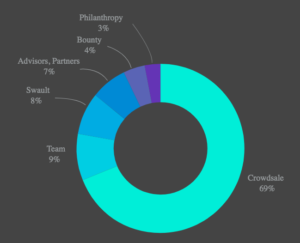 Funds raised from the ICO will be distributed as follows: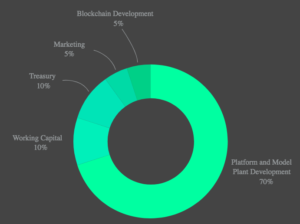 ---
Project Description
Swachhcoin Foundation is a nonprofit organization whose primary objective is to work extensively to overhaul the waste management sector by acting as a complete technology developer and service provider in this domain. Swachhcoin will make the existing waste management industries as efficient and capable as possible so that they become technologically and otherwise able to tackle the imminent waste management crisis the world faces at this very moment. Apart from working with industries, Swachhcoin will develop an ecosystem where individuals on a mass level are made aware of the possibilities of waste around them so that they understand their roles and responsibility and act accordingly.Swachhcoin aims to revolutionize waste management by creating a token that will be used to provide monetary incentive primarily to the domestic households. The waste processing industry will be at the core of fueling this economy.Swachhcoin Offers:
the ability to become a member of the Swachhcoin platform and community

the ability to change and improve the world about us
This project aims to completely change the waste management industry by leveraging:
Adaptive intelligence

Big data

Internet of things

Blockchain technology and smart contracts
Swachhcoin is an effort to align Big Data, Artificial Intelligence, Internet of things with Blockchain technology so that anyone and everyone can contribute and tackle the biggest challenge that we are facing around the globe.
---
Market and Industry Review
Over the past few years, interest in cryptocurrency has grown exponentially. Total market capitalization at the beginning of 2018 exceeded $500 bln. Currently, the most capitalized cryptocurrency is Bitcoin. The market capitalization for the top five cryptocurrencies exceeds 70% of total market capitalization, and the total number of cryptocurrencies and tokens now exceeds 1500.Comments: The market is showing growth, which implies an opportunity for the project to take a market share.
---
Documentation
We have analyzed the Swachhcoin website and documentation for sufficiency and consistency for making an investment decision.Information about the project is available in the White Paper and Overview in English.The project is described in detail in the white paper; the main emphasis is placed on the description of the platform's operation.The website also provides information about the project, the ICO, the Roadmap, and bonuses, the blog, frequently asked questions with answers, consultants and the team. The website is presented in English. The website features links to the blog and social media. The overview shows the great general idea of the platform. Also, there is information about the economy of the token. Summary: The documentation offers insight into the project; platform operation and the services provided are described in sufficient detail.
---
Roadmap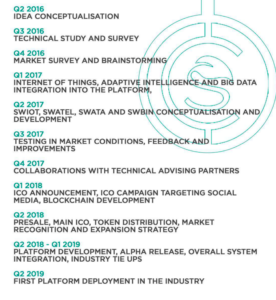 The goal of the development strategy is to position the project as a blockchain pioneer in the retirement plan industry and also to maintain the maximum potential for the development of a fully integrated platform.
---
Marketing
Information about the project is available via popular services such as Twitter, Telegram, Reddit, Medium, Facebook, Instagram, GitHub YouTube, LinkedIn and BitcoinTalk. The team is active on social media. Twitter and Facebook update project news regularly; there is a blog on Medium.The format of articles about the project shows that they were written mainly at the project's request. Comments: Project has very good numbers at social media; the marketing campaign is being developed mainly on Facebook and Twitter.Traffic analysis of the Swachhcoin website based on Similarweb.com data showed the following:

Comments: direct link: 38.68%, referrals: 24.04%, search: 4.39%, social media: 29.45%, mail: 3.44%Search traffic: 4.39%, 100% from with is organic.Referral links: 24.04%Social activity: Twitter: 40.34%; Youtube: 35.92%Summary: Based on the available data, the community is interested in the project.
---
Team
There is a team of nine core team members, along with twenty-four advisors.Key positions are occupied as follows:Team members: Aditya Kumar, CEO & FounderWork experience:
Education: Indian Institute of Science Education & Research (2014 - 2019), specialization - Master of science. Prashant Chaturvedi, Co-founder & COOWork experience:
Education: Vellore Institute of Technology (2014 - 2018), specialization - Mechanical Engineering Alok Yadav, Chief Administrative officerWork experience:
Education: Vellore Institute of Technology (2014 - 2018), specialization - Mechanical Engineering
Aditya Vikram Singh, CFOWork experience:
Education: Woxsen school of business (2016 - 2018), specialization - Finance and Financial Management Services Siddela Sarat Kumar, CHIEF RnD OFFICERWork experience:
Education: Indian Institute of Science Education & Research (2004 - 2019), specialization - Geology Naman Jain, CMOWork experience:
Education: Vellore institute of technology (2014 - 2018), specialization - Mechanical Engineering Kuruva Saiteja, Chief Relations OfficerWork experience:
Education: Indian Institute of Science Education & Research (2014 - 2019), specialization - Geological and Earth sciences Deep Ranjan Gupta, CTOWork experience:
Education: Uttar Pradesh Technical University (2014 - 2019), specialization - Computers Hemant Verma, Chief Strategy OfficerWork experience:
Education: Sikkim Manipal University of Health, Medical and Tech (2005 - 2007), specialization - Information Systems Advisors: ASHLIN BURTON - Futurist, innovator and global strategist, Ashlin Burton combines her expertise as a commercialization specialist and international business leader with her unmatched passion for technology and entrepreneurship to inspire change for individuals and businesses across the globe. BOGDAN FIEDUR - He is full stack developer and entrepreneur. Since the beginning of 2016, he was involved in 'Smart Contract' design and implementation for Ethereum, using Solidity. GIOVANNI CASAGRANDE - He is a believer in the power of decentralization and the remarkable impact it can have on our lives. He is a writer, public speaker, investor, advisor and connector in the space. JAGDESHWAR PORANDLA - Helping companies to take their ideas to ICO or Token Sale by providing Blockchain Technology and ICO campaign services. JAMIL HASAN - He has a great knowledge about Blockchain and teaches people about it. A lot of companies are privileged to work under his advice. JOHN VAN DER VOS - John Van Der Vos comes from the finance sector with an immense knowledge about cryptocurrency. He is presently working as a CRO in Baanx.com Ltd and was a Director & Specialist Head Hunter at Consult RPM UK, where he worked for 5 years with huge success. KRYSTELLE GALANO - Krystell Galano is an expert in cryptocurrency and launch of ICO's leading the area of communications management and marketing with years of experience in the execution of areas such as Social Media Engagement, Facebook Marketing, Product Lister RICHARD KRAWCZYK - As Editor in chief of The ICO World, he is the premier source for ICO news, ICO information, ICO lists, and turnkey ICO services. RUMEN SLAVCHOV - He is a crypto enthusiast who has been involved in the community since 2017. SEAN BRIZENDINE - Joined Architects & Engineers for 9/11 Truth as a volunteer in 2009 was the Verifications Team Leader. Assistant Editors Credit on the Award Winning Documentary ' Experts Speak Out' most viewed film on PBS National in 2011. STEPHAN DE HAES - As the COO at Krypt.ly it is his responsibility to keep an overview on the general operation of the company. SYDNEY IFERGAN - He has a 10-year experience in Search engine optimization and online marketing. UDORACHE ALEXANDRU - With a sales/marketing background, Alex has helped guide marketing programs in a wide range of industries, including telecom and high-risk payment processing. VLADIMIR NINOV - Vladimir is a serial online entrepreneur with a vast experience in digital marketing, advertising, crowdfunding, and growth hacking. DEAN SAKIS KARAKITSOS - I have an international career, which allowed me to work in telecom, FMCG, banking, insurance, leisure & hospitality and non-profit in Europe, Australia, Asia, and America. ARYAN NAVA - Aryan brings more than 18 years of experience working in the technology sector for corporations like Toronto Stock Exchange, Canadian Depository for Securities, TSX VentureExchange, TSX Trust, Economical Insurance, Extendicare, Direct Energy, E-Health Ontario and Lehman Brothers. DR. HANS KONING - I have an international career, which allowed me to work in telecom, FMCG, banking, insurance, leisure & hospitality and non-profit in Europe, Australia, Asia, and America. VIJYABHAS ES - Degradation of the environment is causing a lot of miseries to mankind, locally as well as globally. Management of waste generated due to developmental activities systematically and scientifically is the only solution. NICK SHEVCHENKO - Nick Shevchenko is a trend-setting IT entrepreneur and a seasoned young CEO, at the helm of Fund Platform, a company he launched in 2015. RATKO STAMBOLIJA - A professional marketing specialist with a lot of experience in working on Blockchain projects and promoting Initial Coin Offerings for both well - established companies and startups.Experienced cryptocurrency investor and trader. Co-author of 'Investing in Cryptocurrencies for Fun and Profit' JAMES LONG - Co-founder at 360 Co.A professional blockchain architect and marketing oriented specialist working with ICO projects with high aspiring value in the market. ANDREW TAYLOR - He is an Autodidact, inventor with 7 patents. Franchised 2 companies. DE PIERRE - Innovator CHAD POLLITT - Chad Pollitt, a decorated veteran of Operation Iraqi Freedom and former US Army Commander, is the Co-founder of Relevance, the world's first and only website dedicated to the content promotion, news, and insights.
---
Investment Risks
In our opinion, the token price will fundamentally grow with the successful implementation of the milestones established in the roadmap, as well increasing user interest in the platform. Currently, it is quite difficult to predict how quickly the project will be able to attract its target audience and how rapidly demand for services will grow.Nevertheless, we believe that the Swachhcoin project has a moderate potential and in the long term, it may be of interest to a significant number of users assuming effective operations management and skillful use of all advantages of decentralized technologies.
---
Total Rate