The Word of Mouth Pro project is entering the growing market for social communication and aims to solve a number of real-world problems. The project's chance of solving these problems makes it promising and potentially in high demand.
WMPRO has a strong team and advisors, who between them have extensive experience in this business area. The fact that the management has sufficient experience of joint work and is successfully developing its business is a definite plus for WMPRO.
Having studied the available information and written this review, we did not identify any significant risks that could negatively affect the price of the token.
General information about the project and ICO
The next generation Professional Social Network incorporates a "certifier" and rating system certified by a smart contract, with a sector-specific e-commerce.
The Word-of-Mouth market is worth over 189 billion dollars and has over 116 million operators. The growing popularity of social networks has further boosted the industry and has allowed the proliferation and diffusion of "unverified" information on the real ethical-professional qualities of companies, operators, and partners.
The Eucleia platform and WMPRO blockchain satisfy the need for a decentralized, secure, inviolable, certified database, with truthful and transparent information on the features of the companies and their operators.

Smart contract platform: Ethereum blockchain
Contract type: ERC20
Token: WMPRO
Soft cap: 1,000 ETH
Hard cap: 20,000 ETH
Sale:
Start date: 20 July 2018
End date: 31 October 2018
Available token for sale: 30,000,000 WMPRO
Cost of 1 WMPRO: 0.31 USD
Accepted currencies: ETH and other major cryptocurrencies
Bonus program: From 0% to 40%
Distribution of tokens: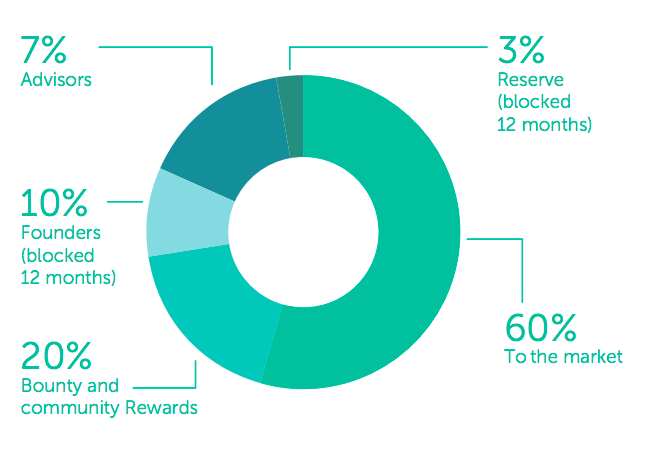 Funds raised from the ICO will be distributed as follows: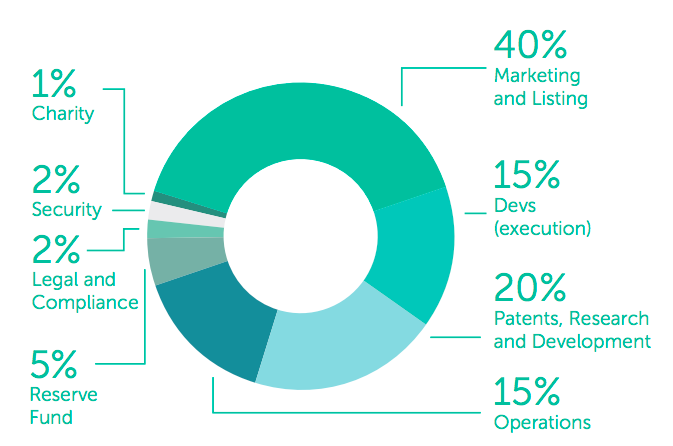 ---
Project Description
The solution the team has developed to reduce risks and provide solutions, for both users and Eucleia, is an ERC20 based token, with specific functionalities.
• WMPRO blockchain certifying system that provides ranks and reputation, payable by WMPRO tokens;
• WMPRO - Token's own stablecoin;
• WMPRO - decentralized largest word-of-mouth shopping service platform, payable by WMPRO tokens;
• Limited supply of WMPRO Tokens
• No Additional mining WMPRO Tokens can be purchased during the token sale and pre-sale period with different steps of bonus further explained in the Financial section.
The token sale provides an opportunity to buy WMPRO tokens at a substantial discount compared to the retail price of WMPRO on the operational platform for sale. Eucleia platform revolves around the idea their our innovative business model allows users to hold onto their cryptocurrency and spend cash at the same time on necessary purchases of services with a unique platform that met market's needs. Word-of-mouth market is huge and needs improvement for all involved parties. Giving credibility, offering needed services and certifying users, will support and will help the market growth. Users will display the "WMPRO certified" sticker on socials and websites. Going viral, the notoriety of the project will spread quickly. This is where WMPRO steps in. The platform allows users to be certified, and to buy needed services need in the industry using WMPRO tokens.
WMPRO will be also used for special bonuses from all direct sales companies and will also be used as incentive and special benefits/gifts for referral programs. This impactful combination will create an high demand and will support the token value.
WMPRO Offers:
Transparency;
Immutability;
Financial stability;
Irreversibility;
Innovativeness;
Low cost;
Security;
Market share growth and worldwide expansion;
Profit for all stakeholders;
Anonymous.
For all these reasons WMPRO's Blockchain Ecosystem is implemented as a financial service solution based on blockchain technology, and it provides the functionality necessary for a world where users aren't forced to trust in any individual or organization but rather in the incentives implemented through cryptography and economics.
---
Market and Industry Review
In every survey Unity Marketing conducts with retailers on their marketing and advertising methods, word of mouth is hands down the most important, being both the most used and most effective. For example, in a recent survey among furniture retailers, over 80% of furniture retailers named word-of-mouth their most powerful marketing tool. By contrast, social media marketing, also used by all of the retailers surveyed, was rated by only 5% of furniture retailers as very effective.
And it makes no difference about the retailers' specialty. These findings are mirrored among retailers of every stripe, whether jewelry, fashion, gifts, home furnishing, greetings cards/stationery or other. Word-of-mouth marketing is always the most used and most effective. Its power dwarfs all other marketing methods.
Yet when people say "word-of-mouth marketing," retailers tend to hear "social media." And while social media marketing is one way to activate word-of-mouth, it is far less effective than good old-fashioned people talking.
To make word of mouth successful, the first thing needed is to identify those among a retailers' network of customers, friends, and fans that will carry your messages forward. You have to know your customers and know them well. That means talking to them.
It is more than just having a database of names and addresses, though too many retailers overlook building a vibrant contact list, relying instead on passive efforts to collect names like sign up forms at the register. If not doing so new, retailers should make it standard practice to ask for customers' street and email addresses when writing up sales.
For lookers, not buyers, collecting their contact addresses takes more finesse. First, you have to ask, so training staff to invite every guest to the store to share their email is as important as training them on the guest welcome and service procedures.
---
Documentation
We have analyzed the WMPRO website and documentation for sufficiency and consistency for making an investment decision.
Information about the project is available in the White Paper, Onepager and Key Factors in English. In the White Paper, the project is described in sufficient detail. The main emphasis is on the components of the system. One pager provides most valuable info on one page.
The website also provides information about the project, the ICO, the Roadmap, bounty and bonuses and the team. The website is presented in English language. The website features links to the blog, a description of the bounty program.
Summary: The documentation enables a comprehensive view of the project. The work process of the system is described in sufficient detail.
---
Team
There is a team of three core team members along with eight advisors.
Key positions are occupied as follows:
Team members:
Giovanni Lionetti, Co-Founder / Finance & Administration
The entrepreneur since 1988, obtains important successes in various sectors related to entertainment and tourism, realizing projects and structures still active today. Approaching the world of technology combined with marketing in 1996, actively contributing to the creation of successful businesses.
Work experience:
Education: Università di Pisa
Riccardo Vieri, Co-Founder / Innovation & Technology
Known as a serial entrepreneur dating back to 1993, technological innovation-oriented, since 2002 most of His Tlc and Adv patents ( more than 20) have already been granted by the United States Authority and are in use by Fortune 500 companies.
Work experience:
Europartners Italia Spa (1993 - 1996), Manager
Mega Corporation (1996 - 2000), Vice President
ACN (2003 - 2008), Regional Vice President
Paypervox (2007 - 2010), CEO Patent Portfolio Developer
Winland Srl (2001 - Present), Sales Marketing Manager
InterDigital Communications (2014 - Present), Patent Specialist Mobile Advertising
Sisel (2016 - Present), Intellectual Property & Marketing Development
Starbit International Ltd (2017 - Present), Consulting in Marketing & Innovation Technologies
Futurix Lab (2018 - Present), President & Founder
Maurizio Siracusa, Co-Founder / Blockchain & Cyber Security
Over 15 years of experience in consulting and management in IT. Possesses extensive knowledge of business/technology and a progressive, practical approach to organization improvement.
Work experience:
Trip Srl (2000 - 2003) , Programmer
Miller Srl (2000 - 2006), Owner
Irpe Spa (2007), System Administrator
Start Point Srl (2006 - 2007), CIO
Carrefour (2007 - 2008), Systems Engineer
ITF SPA (2008 - 2015), Systems Engineer
Npo Sistemi (2008 - 2015), Systems Engineer
Security Lab - Cyber Security (2016 - Present), Cyber Security Advisor
TeamBit (2018 - Present), Co-Founder
Advisors:
VLADIMIR NIKITIN, Blockchain and Cyber Security Advisor
Vladimir is the Co-founder of Top ICO Advisor, an accomplished legal consultant, Blockchain cryptocurrency specialist and a member of several Board of Directors. With Masters degree in both Law and Economics Vladimir has over 10 years of Civil law, finance, Internet technologies experience in various industries. He is a Top 10 Blockchain Expert.
NICOLAY SHKILEV, Crypto Enthusiast and Mentor. Rated top 5 in people of blockchain
20 years of experience in large-scale transaction projects. He has many awards and titles in the IT business. Self-Made Russia award. Tech guru. Super TOP award etc. Founder and CEO of Private Business Club. His Holding received "Enterprise of the Year" award in the Kremlin. Has a business in various directions. Co-Founder "Top ICO advisors".
PHILIP NUNN, Marketing Advisor
With more than 15 years' experience in financial services, Phillip specialises in wealth management, angel investment, commercial property investment and financial technology. Phillip has become a well-known, online influencer in the blockchain and crypto space and has travelled the world evangelising and talking on these subjects. Phillip has sat on the advisory boards of several successful ICO's over the past 12 months and has helped structure and fund some of the biggest companies of the future.
ROBERT STONE, Finance Advisor
During his 20 years consulting with leading corporations, Rob negotiated over $1bn of services across a diverse spectrum of categories including IT, professional services & marketing Rob is supported by a team of professionals with a strong track record of selling high value assets to wealthy individuals on the global stage. Together they have been involved in the crypto market since 2015. Possesses extensive knowledge of business/technology and a progressive, practical approach to organization improvement.
KAREN NEW, Fintech Advisor
Karen is an adjunct lecturer at the Singapore FinTech Association on Crypto Literacy, and an Oxford alumnus. Currently, she work as an advisor on the boards of multiple ICOs including the latest being Surety.ai and Geomain.org. She had the honor to speak and be featured on The Straits Times, Channel News Asia, News on 5, and Channel U (Money Week), for expertise in Wealth Building with Cryptocurrency and Blockchain. She is the author of New Assets 2.0, simple book educating the uninitiated on investing in cryptocurrency.
YOGESH BHARDWAJ, Legal Advisor
Yogesh is the founder of Logicize Research. a leading Business and legal consultancy firm. As an accomplished software engineer and technology strategist, he has extensive technical expertise in various techniques such as Blockchain, Cryptocurrencies, BIg data, Web technology, Fintech and more. Further, He has business experience in patent search, analytics preparation and prosecution to produce the valuable intellectual property
SHARON GREENBERG, Strategic Advisor
Sharon has over 15 years' experience in executive roles leadership in IT companies, with a broad network of contacts in various vertical markets, including in the international high-tech and start-up sphere. Over the years has developed strong analytic & negotiating skills of complex contracts as well as excellent knowledge of sales and Market development processes. Sharon is currently CO- CEO at Cryptonext, a start-up company with a vision of making currency trades and transfers cheaper and faster, by creating a peer to peer trading and transfer platform.
ALEX TEI, Philantropy Advisor
He has been working as a manager and entrepreneur for more than 30 years. He has always been sensitive to the social problems and non-profit sector, so he decides to make his commitment stronger by working on innovative initiatives as the founder of same NPOs. Observer of how the innovation, science and technology can fill the social gaps and respond to the old and new needs. He adopts unconventional channels, focused on blockchain and cryptocurrency, to increase innovative charity fundraising. He is a Crypto Valley Suisse Member.
---
Investment Risks
The documentation says nothing about the future marketing of the project itself or its product, for which 40% of the funds are allocated.
Economic risk is also present, as WMPRO does not disclose the main financial indicators or forecasts for them.
---
Total Rate